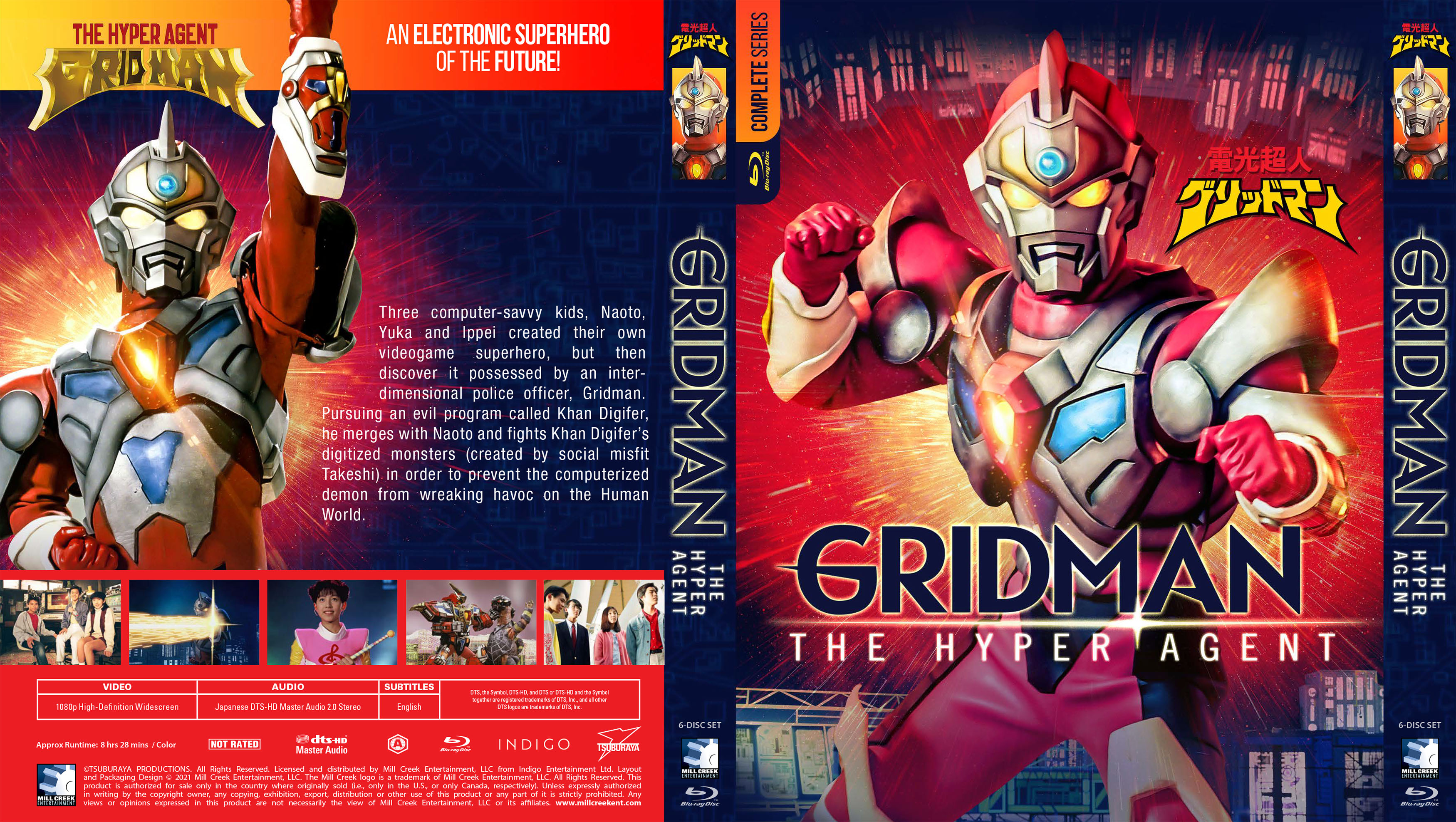 Wraparound cover art for the Blu-ray collection GRIDMAN - THE HYPER AGENT Complete Series. Photo courtesy of Mill Creek. ©TSUBURAYA PRODUCTIONS
Fan Favorite Series Makes North American Debut On Home Video!
Source: Mill Creek Entertainment
Special Thanks to J.W. Starrett
Mill Creek Entertainment will release Tsuburaya Productions' GRIDMAN - THE HYPER AGENT (電光超人グリッドマン, Denkō Chōjin Guriddoman) The Complete Series on Blu-ray for $40.99 on August 17, 2021. The show first aired on Japanese television in 1993-94, with the heavily-reworked Americanzied version, SUPERHUMAN SAMURAI SYBER-SQUAD, syndicated by DiC Entertainment in 1994-95. Tsuburaya and Trigger launched the anime reboot SSSS.GRIDMAN (SSSS.グリッドマン, SSSS.Guriddoman) in 2018.
In the series, three computer-savvy kids, Naoto, Yuka and Ippei created their own videogame superhero, but then discover it possessed by an inter-dimensional police officer, Gridman. Pursuing an evil program called Kahn Digifer, he merges with Naoto and fights Kahn Digifer's digitized monsters in order to prevent the computerized demon from wreaking havoc on the Human World.
Cover of the booklet included in the Blu-ray set. Photo courtesy of Mill Creek. ©TSUBURAYA PRODUCTIONS
Never before available on home video in North America, GRIDMAN - THE HYPER AGENT will contain stunning high definition video for all 39 half-hour episodes with DTS-HD Master Audio of the original Japanese soundtrack plus newly translated English subtitles. The set also comes with a booklet containing character information and an episode guide.
GRIDMAN - THE HYPER AGENT Complete Series – BD
SKU: 63545
UPC: 683904635457
Release Date: 8/17/2021
Contents: 39 Episodes
Number of Discs: 6
Format: Blu-ray
Region Code: BD Region A
Run Time: 936 min
Aspect Ratio: Widescreen
Language: Japanese
Subtitles: English
SRP: $40.99
· Preorder: amazon.com/Gridman-Hyper-Blu-ray
· Preorder: deepdiscount.com/gridman-the-hyper-agent-the-complete-series
Find additional retailers at: https://www.millcreekent.com/products/gridman
---
About Mill Creek Entertainment
Mill Creek Entertainment is the home entertainment industry's leading independent studio for Blu-ray, DVD, and digital distribution. With direct sales pipelines to all primary retail and online partners, Mill Creek Entertainment licenses, produces, markets and distributes a dynamic array of film and television content to over 30,000 retail stores and thousands of websites reaching millions of customers across North America. Mill Creek Entertainment's expansive library includes Oscar®-winning theatrical feature films, Emmy®-winning classic and current TV series, original documentary productions and pop-culture favorites that enlighten, educate and entertain. Mill Creek Entertainment is based in Minneapolis, Minnesota. For more information, please visit www.millcreekent.com