Photo courtesy of Warner Bros. Pictures. © 2023 WARNER BROS. ENT. ALL RIGHTS RESERVED.
Source: Warner Bros. Pictures
Official Site: https://www.themeg.movie/
SPOILER WARNING: This article contains plot details and photos from a new movie.
Photo courtesy of Warner Bros. Pictures. © 2023 WARNER BROS. ENT. ALL RIGHTS RESERVED.
Get ready for the ultimate adrenaline rush this summer in "Meg 2: The Trench," a literally larger-than-life thrill ride that supersizes the 2018 blockbuster and takes the action to higher heights and even greater depths with multiple massive Megs and so much more! Dive into uncharted waters with Jason Statham and global action icon Wu Jing as they lead a daring research team on an exploratory dive into the deepest depths of the ocean. Their voyage spirals into chaos when a malevolent mining operation threatens their mission and forces them into a high-stakes battle for survival. Pitted against colossal Megs and relentless environmental plunderers, our heroes must outrun, outsmart, and outswim their merciless predators in a pulse- pounding race against time. Immerse yourself in the most electrifying cinematic experience of the year with "Meg 2: The Trench" – where the depths of the ocean are matched only by the heights of sheer, unstoppable excitement!
Warner Bros. Pictures and CMC Pictures present "Meg 2: The Trench," with Statham and Jing headlining an ensemble cast that also includes Sophia Cai ("The Meg"), Page Kennedy ("The Meg"), Sergio Peris-Mencheta ("Rambo: Last Blood"), Skyler Samuels ("The Gifted"), and Cliff Curtis ("Avatar" franchise).
"Meg 2: The Trench" is directed by Ben Wheatley ("In the Earth," "Free Fire"), from a screenplay by Jon Hoeber & Erich Hoeber ("The Meg," "Transformers: Rise of the Beasts") and Dean Georgaris ("The Meg," "Lara Croft: Tomb Raider – The Cradle of Life"), and a screen story by Dean Georgaris and Jon Hoeber & Erich Hoeber, based on the novel The Trench by Steve Alten. The film is produced by Lorenzo di Bonaventura ("The Meg," "Bumblebee") and Belle Avery ("The Meg," "Before the Devil Knows You're Dead"), and executive produced by Jason Statham, Cate Adams, Ruigang Li, Catherine Xujun Ying, Wu Jing, E. Bennett Walsh, Erik Howsam, Gerald R. Molen and Randy Greenberg.
Joining director Wheatley behind the camera are director of photography Haris Zambarloukous ("Belfast," "Murder on the Orient Express"), production designer Chris Lowe ("The Gray Man," "No Time to Die") and editor Jonathan Amos ("Baby Driver," "Paddington 2"). The visual effects supervisor is Pete Bebb ("Fantastic Beasts and Where to Find Them," "Inception"), and costume designer is Lindsay Pugh ("The Matrix Resurrections," "Krypton"). The music is by Harry Gregson-Williams ("The Meg," "The Martian").
Warner Bros. Pictures and CMC Pictures present, in association with DF Pictures, a di Bonaventura/Apelles Entertainment, Inc. production, a Ben Wheatley film, "Meg 2: The Trench." It will be distributed worldwide by Warner Bros. Pictures and is set to open in theaters in North America on August 4, 2023 and internationally beginning 02 August 2023.
Back for seconds! "Meg 2: The Trench" is the summer's highly anticipated next chapter of the global blockbuster that returns to the big screen—and jumps off of it in 3D!—with Jason Statham once again headlining and now partnered with Wu Jing, star of five of the ten highest- grossing films in China. Our unstoppable heroes battle a frenzy of ferocious Megs, led by the biggest Meg ever, along with new, never- before-seen creatures in a monstrously-sized action thriller. Featuring jaw-dropping effects, edge-of-your-seat thrills and high-octane battles, "Meg 2: The Trench" is a summer joyride at its combustible best!
Photo courtesy of Warner Bros. Pictures. © 2023 WARNER BROS. ENT. ALL RIGHTS RESERVED.
INFORMATION ABOUT THE PRODUCTION
The Predators
● The cradle of civilization for all of the fantastic creatures in "Meg 2: The Trench" lies at the bottom of a trench in the Pacific, over 25,000 feet deep and warmed by thermal vents. It supports a complex ecosystem sealed off from the world above for millions of years by the thermocline, which resembles the even, sandy bottom of the ocean, but is actually an illusion created by a cloud of hydrogen sulfide that seals off the secret world below.

● This time around, filmmakers were determined to out-Meg "The Meg" by creating their Apex Meg—a grizzled veteran covered in scars; the unrelenting machine of death is larger than anything conceived for the original film. Director Ben Wheatley says, "He's a guy who's had loads of bar fights."

● Filmmakers also embraced their prehistoric side by creating their own version of predators from eons long past that emerge from beneath the thermocline:
o Snappers: Inspired by a dinosaur called Koreanosaurus—an herbivore that walked on all fours and sported a beak—filmmakers created Snappers, a mighty carnivore with a low, muscular body, sharp teeth and insatiable appetite. Wheatley supplies, "It's a Goldilocks thing—they're not too big and they're not too small, otherwise the audience might feel sorry for them."
o Mega-Octopus: Classed as "only slightly less terrifying than the Meg," the mountainous version of the familiar sea creature wreaks havoc in the trench and later, when it ventures to the shallows of the ocean. "I gotta say, from a Ray Harryhausen point of view, I'm massively into giant tentacles," says Wheatley.
● Devising every terrifying act of the Megs began in the same place, according to Wheatley: "All the action with the sharks started with a pencil, me just sitting down and drawing, and thinking about what would be really fun to see. Then, I would go to our storyboard artist, Jake Lunt Davies, and together we would work out what the sequence was going to be. From there to the computer animators, who'd rough a version, then we'd cut that into the film, and then we'd go and shoot it." Many steps would follow and the whole journey for each shark encounter—from pencil to feature—took roughly six months. For the director, once the Meg turned up in post-production, "We were like, 'Oh. My. God!'"
o The entire collection of storyboards for the film wound up with nearly 5,000 drawings.
Photo courtesy of Warner Bros. Pictures. © 2023 WARNER BROS. ENT. ALL RIGHTS RESERVED.
The Humans
● For director Wheatley, the brief was simple: "Taking "The Meg" and supercharging it—

bigger creatures, bigger action, bigger monsters, bigger environments, bigger equipment—the whole thing. Bigger."

● Producer Lorenzo di Bonaventura admits, "There was a little bit of uncertainty with the first film how the comedy would play for the audience. But they really bought into the notion of "Let's not take ourselves too seriously—let's have some fun and some scares." This time around, we'll have some more scares, a little more carnage in and out of the water, two globally popular actors in Jason Statham and Wu Jing, some new cast members, more action... and more Megs. It's a balance between reminding them of what they really loved and the characters they loved, and then giving them a new experience."
Photo courtesy of Warner Bros. Pictures. © 2023 WARNER BROS. ENT. ALL RIGHTS RESERVED.
● Producer Belle Avery says, "People were really surprised at actually how funny "The Meg" was. I mean, you can't take yourself too seriously when you're doing a giant shark movie. So it's become about keeping with the fun of it, and keeping the tone somewhat light. We're also giving them more creatures, creating more personalities with the Megs and making more discoveries in the trench. I think that's pretty important. You know, mankind has a tendency to destroy things, and we touch on that. But, it's kind of like Jonas said in the first film, "Meg versus Man is a slaughter." So, you're going to see a little bit of that in this one, too, but fun slaughter [LAUGHS]."

● Jason Statham is always keen to do as many of his own stunts as possible. Anytime the actor is seen powering a jet ski through the water, that is indeed Statham. Wheatley offers, "Because the physics of a face are hard to fake—you have to be upside down to really look like you are upside down—we had Jason on this kind of giant hand drill setup, and we'd pull the trigger and spin him around, firing water at his face. He wanted as few gimbal shots as possible, almost all of it is him—obviously not jumping a giant wave, but him riding a jet ski very, very quickly. And scarily, we were all at the monitors, saying, "Please come back all right!""

● Wu Jing is a trained diver who's said, "To be honest, I've always been terrified of monster films. You can ask me to jump off a high-rise building, and I think that's easier for me— but fighting a fictitious monster? That is something very hard for me."

● At one point while filming an explosive sequence, Jing volunteered to have a camera strapped to him to get an up-close shot of the actual explosions. Wheatley explains, "We did that a few times with Wu Jing and it always turned out well. It really puts the viewer into the action when you do that. He was always ready to do anything, and never a complaint. I think he could break his leg and he'd still be going, 'Yeah, I'm fine.'"
● The international makeup of the cast reflects back the nature of global scientific ventures. Wheatley comments, "Our cast is based around the realism found in the world of science. Usually, an oceanic research group would be pulling the best people from all over the globe, with a mix of people from everywhere."
Photo courtesy of Warner Bros. Pictures. © 2023 WARNER BROS. ENT. ALL RIGHTS RESERVED.
The Places and the Cool Stuff
● "Meg 2: The Trench" was filmed in the winter and spring of 2022 at Warner Bros. Studios

Leavesden and on location in Thailand.

● Production designer Chris Lowe offers, "In production design, there is a saying—'We're not making documentaries, we're making movies.' We're taking people away from everyday life and putting them in environments that excite them. We go around a laboratory, and while they're fascinating places, cinematically, they're not that exciting. it's the job of the art department to basically take the tropes of what is real and believable and push the boundaries, making sure that the audience feels that everything is real. We have a 65-foot shark that doesn't exist anymore, so we're taking giant leaps with people's idea of believability. But it's my job to complement that Meg."

● To create the Zhang Institute, Lowe collaborated with Wheatley on the research organization and laboratory, looking to the real world for inspiration.
o For the location, Lowe started with images of one of the most beautiful beaches in the Mediterranean, Voidokilia Beach, nicknamed Omega Beach because it resembles the Greek letter Omega.
o For the institute itself, the design team looked to the London Aquatics Centre and modified the "Manta ray design" to reflect the head of the institute's culture. The resulting structure serves as "a gateway across the bottleneck, trapping the research Meg, Haichi, in the natural bay," per Lowe.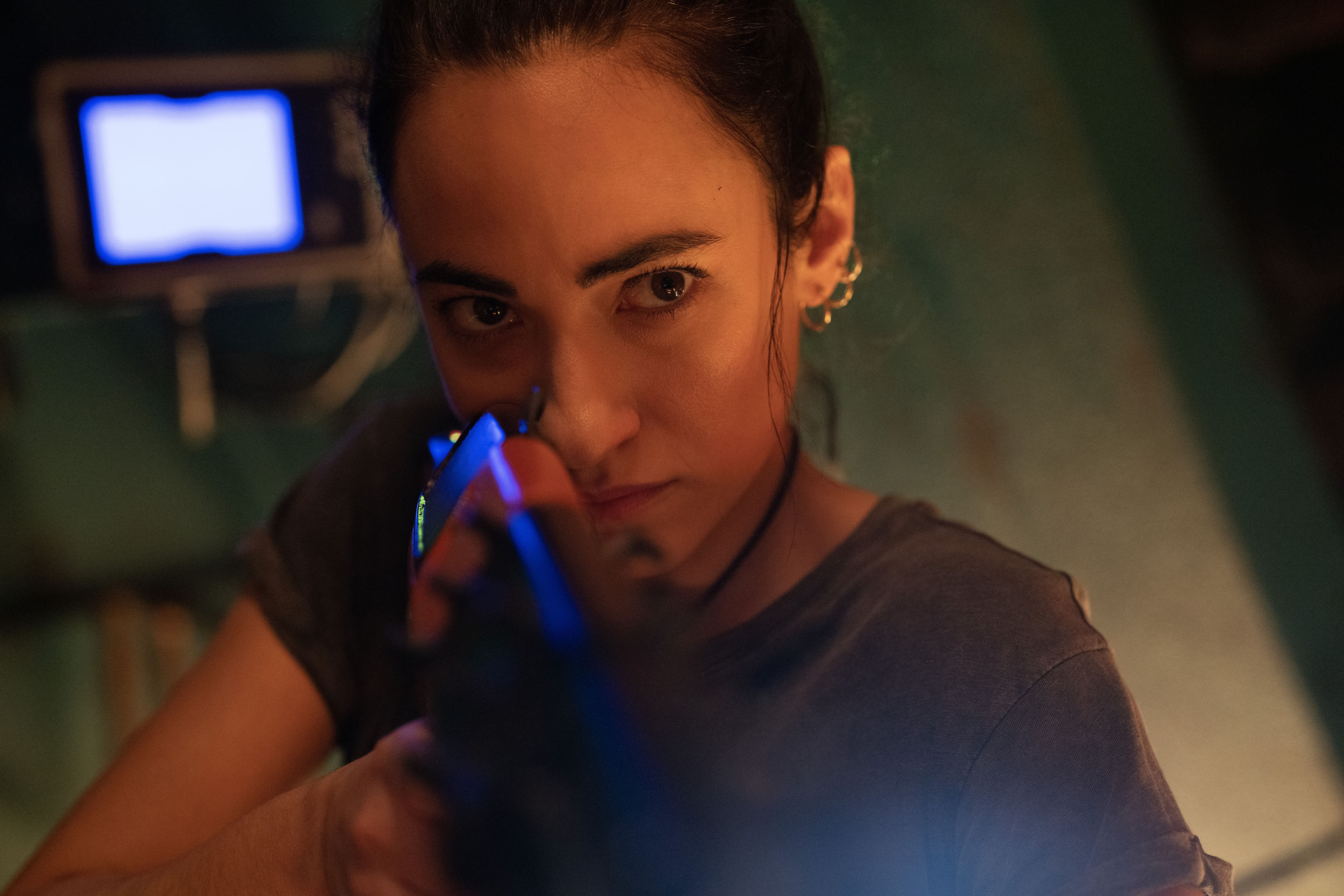 Photo courtesy of Warner Bros. Pictures. © 2023 WARNER BROS. ENT. ALL RIGHTS RESERVED.
o Forthetechnologiesinvolvedintheworldofthefilm,filmmakersaimedforthe overall look to be "slick," taking cues from such sources as tech entrepreneur Elon Musk.
o For the interiors, Lowe states, "As the head of the institute named after him, Jiuming Zhang is a designer, and I wanted the architecture to reflect the water, the sun and the sea. Even the walls have a slightly reptilian texture to them, but they also resemble a Chinese screen as well—everything nodding in the direction of the East."
o For the Dive One and Dive Two deep sea submersibles, the design team's mantra was "Bentley Meets JCB," referencing two global manufacturing firms—one of luxury vehicles and one of construction equipment (JCB stands for Joseph Cyril Bamford, who began the business using surplus WWII parts and scrap in 1945).
o For the divesuits, the conception came from costume designe rLindsayPugh,who collaborated with director Wheatley and Pierre Bohanna, costume FX speciality designer, whose team manufactured the suits. The suits are comprised of an exosuit (that powers and pushes the diver through the water), an under suit (that protects the body from the depths) and a practical helmet and breather (developed in conjunction with diving & marine coordinator Dave Shaw). The team produced 25 suits, each made up of more than 200 parts.
▪ Pugh states, "it's a proper costume piece. All the other costumes were either created or purchased—the very nature of the show, it has to be fairly normal people doing extraordinary things. But this was an extraordinary costume. It was a piece made within the construct of the movie to be a specialized item, so every part of it was designed and engineered from zero."

▪ Bohanna continues, "They're not a classic costume piece to make. These are pieces of engineering and so conceptually, there's a totally different approach than you would have for a normal costume."

▪ To make the costumes easier to maneuver in during filming, a suspension system was created to keep the suits upright while the actors worked in them.
o FortheManaOneDiveCentre,themajorityofthestructurewasbuiltabovethe exterior water tank at Warner Bros. Studios Leavesden, with walkways hovering 30 feet above the surface.
● For the Club Paradise all-inclusive vacation mecca on Fun Island, filmmakers fashioned their South Seas haven (that soon becomes a nightmare) on Phuket in Thailand on Paradise Beach. The location had seen a two-year downturn from the pandemic, and production was able to treat the shallow waters and cove as a blank canvas, even constructing a 200-meter jetty out into the sea.
o The characterof Coco—the bride from "The Meg"—is now the social director for Club Paradise on Fun Island, and she naturally brings along fan-favorite Pippin the Dog.
● Director of photography Haris Zambarloukous—whom Wheatley calls "a keen surfboarder, half-fish himself"—utilized a special piece of camera equipment called a MegaDome. A normal lens placed at the water line distorts the size of the subjects (people appear larger underwater), but the MegaDome equalizes, so shots of Statham diving into the ocean keeps the actor the same size out of and in the water.

● The astounding stunts were concocted by stunt coordinator Marc Mailley and, per producer Belle Avery, "Marc was remarkable, designing incredible stunts for Jason Statham and Wu Jing—I think people will see things in this film that they haven't seen before. Jason on the jet ski, Wu Jing on helicopters—it's amazing, exciting stuff."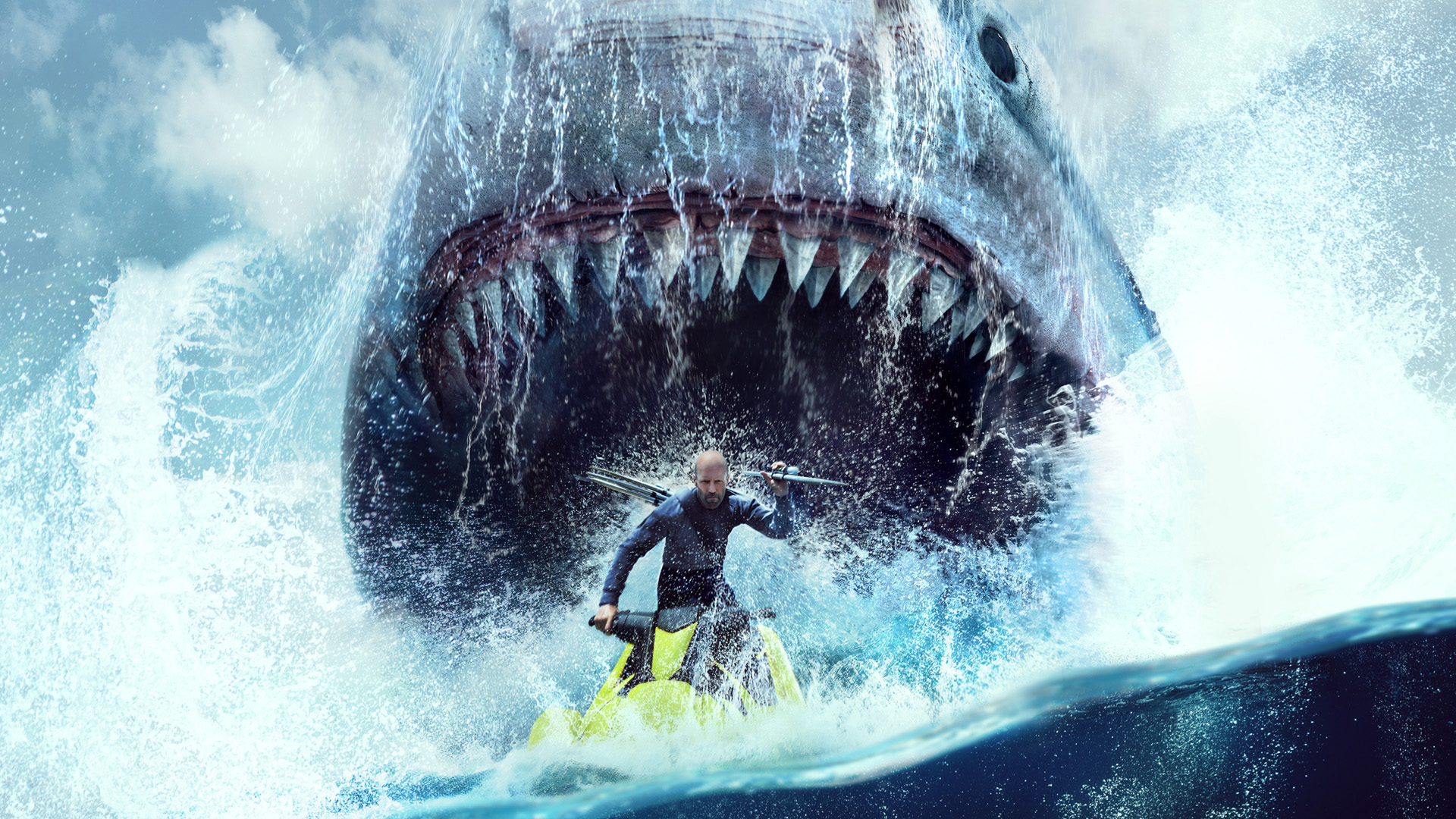 Photo courtesy of Warner Bros. Pictures. © 2023 WARNER BROS. ENT. ALL RIGHTS RESERVED.
Reel REAL Things About Marine Life
● Fossil evidence of shark ancestors—in the form of scales—has been dated back 450 million
years. Sharks have survived the Big Five: the five major extinction events (when at least 75% of species go extinct within a period lasting less than two million years). The last of the Big Five, End Cretaceous, occurred 65 million years ago and saw the end of the dinosaurs. Bye-bye T-Rex, Hello Jaws!

● The supersized octopus in the film displays an ability to change the appearance of the texture of its skin—from smooth to bumpy and spiky. This mimics a real skill of many squids and octopi in nature.

● Shark DNA is one-and-one-half-times larger than human DNA—with encoded capabilities that humans do not possess. The first mapping of great white shark DNA revealed mutations that protect the animal against cancer and other illnesses. Avery comments, "Shark DNA is being used in science, to repair cartilage, for instance, all kinds of things. So while we fear them, there's a lot we can learn from them. I think humans are naturally attracted to dangerous things, especially dangerous creatures we're in awe of. It doesn't mean we want to stand next to them, but we're certainly appreciative of them. I think there"s a little bit of shark in everyone."

● While it's now become a popular conception that all sharks must keep moving to provide water through their gills or they die, this is only true for some species. Some are able to pass water through their respiratory system by a pumping motion of their pharynx—they can rest on the ocean floor and still breathe. This is possible because of openings (between the eye and the gill slits) called spiracles that provide oxygenated blood directly to the eye and brain through a separate blood vessel; this allows them to lie in wait before lunging at their prey. Spiracles are on most sharks, but not requiem sharks, mackerel sharks (which includes the great white) nor hammerheads; for them, the old "swim or die" maxim holds true.
● Sharks have an amazing ability to move easily between varying depths in the water—they do this much like an airplane, employing their pectoral fins to move higher or lower. Sharks also have livers with a high proportion of oil, which also helps in the buoyancy department. (By contrast, bony fishes are restricted to existing in certain depths—they have swim bladders, gas-filled, which provide their buoyancy. Put them in the wrong depth, and the bladders can explode or implode.) And, oh yeah, sharks don't have bones!

● There are more than 500 species of sharks, and they can be found in most ocean habitats (even under the ice in the Arctic Sea). And while most of us still harbor a fear of sharks from such popular entertainment as "Jaws," only a handful of those species are considered dangerous to man. Of the attacks on humans that do occur, most are off the coasts of South Africa, Australia and Florida (Florida sees the most attacks, but the least fatalities). But the two largest shark species—basking shark and whale shark—have no apparent teeth and subsist on plankton. The majority of sharks live off of fish and invertebrates, with some consuming marine mammals like seals and sea lions. People only rarely figure into the shark diet, and most often only when they aggressively take on a shark, or a shark takes them for something tasty (impersonating a sea lion while paddling on a surfboard).

● The great white shark (indeed, all sharks) is classed as an apex predator, with nothing willing to take it on. Only on rare occasions, an orca has been known to challenge a great white. And while most sharks are cold-blooded (their body temperature is regulated by the surrounding water), the great white has a complex circulatory system that conserves and distributes heat to certain areas of its body—think of it as being turbo-charged—that allows them to move faster when hunting prey.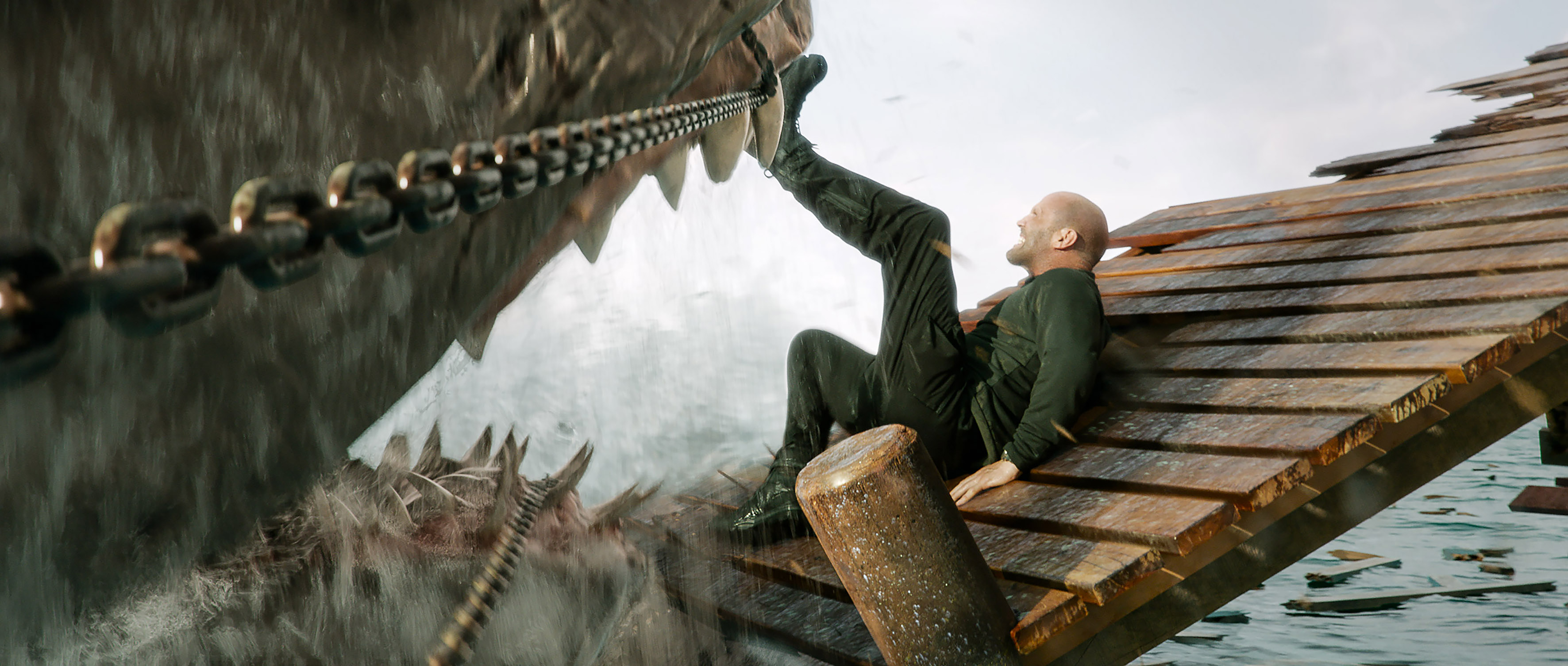 Photo courtesy of Warner Bros. Pictures. © 2023 WARNER BROS. ENT. ALL RIGHTS RESERVED.
ABOUT THE CAST
Photo courtesy of Warner Bros. Pictures. © 2023 WARNER BROS. ENT. ALL RIGHTS RESERVED.
JASON STATHAM (Jonas Taylor) is an international star best known for his hard-hitting action films.
His worldwide box office has grossed over $5 billion with massive hits, including "The Meg," "Furious 7," "The Fate of the Furious," "Fast & Furious Presents: Hobbs & Shaw" (which he also produced) and "Fast X." Statham received a Critics Choice nomination for his comedic turn in the Paul Feig-directed "Spy," in which he starred alongside Melissa McCarthy.
Born in Sydenham, England, Statham became a member of the British national diving team as one of their top divers, eventually placing 12th in the world. While training at the famed Crystal Palace National Sports Centre in London, film crews and photographers pursued him as new talent.
He eventually met director Guy Ritchie, who cast Statham in his film debut as Bacon in "Lock, Stock and Two Smoking Barrels." Statham teamed up with Ritchie in "Snatch," starring opposite Brad Pitt and Benicio Del Toro, and recently in the crime capers "Wrath of Man" and "Operation Fortune: Ruse de Guerre" (which he also produced).
Then, French film impresario Luc Besson trusted Statham in the title role of Frank Martin in "The Transporter," after which he went on to star in the blockbuster remake of "The Italian Job," "Crank," "Crank: High Voltage," "Transporter 2" and "Transporter 3."
Statham's other credits include the highly praised "The Bank Job" (for Roger Donaldson), "Death Race," "The Expendables" trilogy, "The Mechanic," "Blitz," "Killer Elite," "Safe" (for Boaz Yakin), "Parker" (with Jennifer Lopez and directed by Taylor Hackford), "Homefront," "Wildcard" and Steven Knight's directorial debut "Hummingbird." In 2015 he joined the highly successful "Fast & Furious" franchise as Deckard Shaw.
Statham will next be seen in the fourth installment of the popular franchise "Expenda4bles," which he is also producing.
Photo courtesy of Warner Bros. Pictures. © 2023 WARNER BROS. ENT. ALL RIGHTS RESERVED.
WU JING (Jiuming Zhang) is a renowned Chinese artist who has taken on the roles of actor, director, screenwriter and the vice chairman of the China Film Association. In 1994, he won championship medals at the Elite Level competing in sports including the Qiangshu and the Duilian at the National Martial Arts Contest. In 1995, Wu Jing started his career in the entertainment industry with a debut in "Tai Chi Boxer," and followed it with other fan favorites "Tai Chi Master" and "Sha Po Lang." In 2007, he was nominated for Best Supporting Actor at the 44th Taiwan Golden Horse Awards for his outstanding performance in the action movie "Invisible Target."
In 2008, Wu Jing made his directorial debut with the film "Legendary Assassin," in which he also starred as the lead actor.
In 2012, he played a soldier for the first time in TV series "I'm a Special Soldier II."
In 2013, Wu Jing wrote, directed, and starred in the military-themed film "Wolf Warrior," which explored a new direction for modern Chinese military action movies, achieving critical acclaim and box office success. The film won the Most Outstanding Film of the Year Award at the 33rd Hundred Flowers Awards.
In 2014, Wu Jing married famous TV host Xie Nan, and they have two sons.
In 2017, Wu Jing took on the helm once more as writer, director and lead actor for the military-themed film "Wolf Warrior II," which grossed 5.694 billion CNY in box office. The film broke Mainland China's box office records, as well as the global box office records for a single film in a single market. It became the first Asian film to enter the World's Top 100 Box Office Film List, and won the Outstanding Film Award at the 17th Huabiao Awards, the 13th Chinese American Film Festival for the Best Feature Film Award, the 12th Asian Film Awards for the Top- Grossing Asian Film, and the Best Director Award and Special Contribution Award at the fifth China Britain Film Festival. Wu Jing himself won the Best Actor Award at the 34th Hundred Flowers Awards; he also won Outstanding Actor Award at the 17th Huabiao Awards, the China Best Actor Award at the 23rd Huading Awards, Best Actor Award at the New Zealand Asia Pacific Film Festival, and Best Actor Award at the fourth China Australia International Film Festival for his role as Leng Feng.
Wu Jing is one of the most beloved filmmakers in China. He is dedicated to promoting Chinese culture and contributing to the exciting growth of the genre film business in China. He also has a great sense of social responsibility and a passion for public welfare. In recent years, Wu
Jing invested in and executive produced the movie "The Wandering Earth" and presented its sequel.
He also participated in the production of various movies that have become household names and were loved by audiences, including "The Climbers," "My People My Country," "My People My Homeland," "My Country My Parents," "The Sacrifice" and "The Battle at Lake Changjin Parts I & II" and "Water Gate Bridge." "The Battle at Lake Changjin Part I" grossed 5.775 billion CNY in box office and remains the highest-grossing film in the Chinese film market to this day.
As of 2022, the cumulative box office of movies starring Wu Jing reached 28.5 billion CNY, making him the highest-grossing actor in Chinese film history.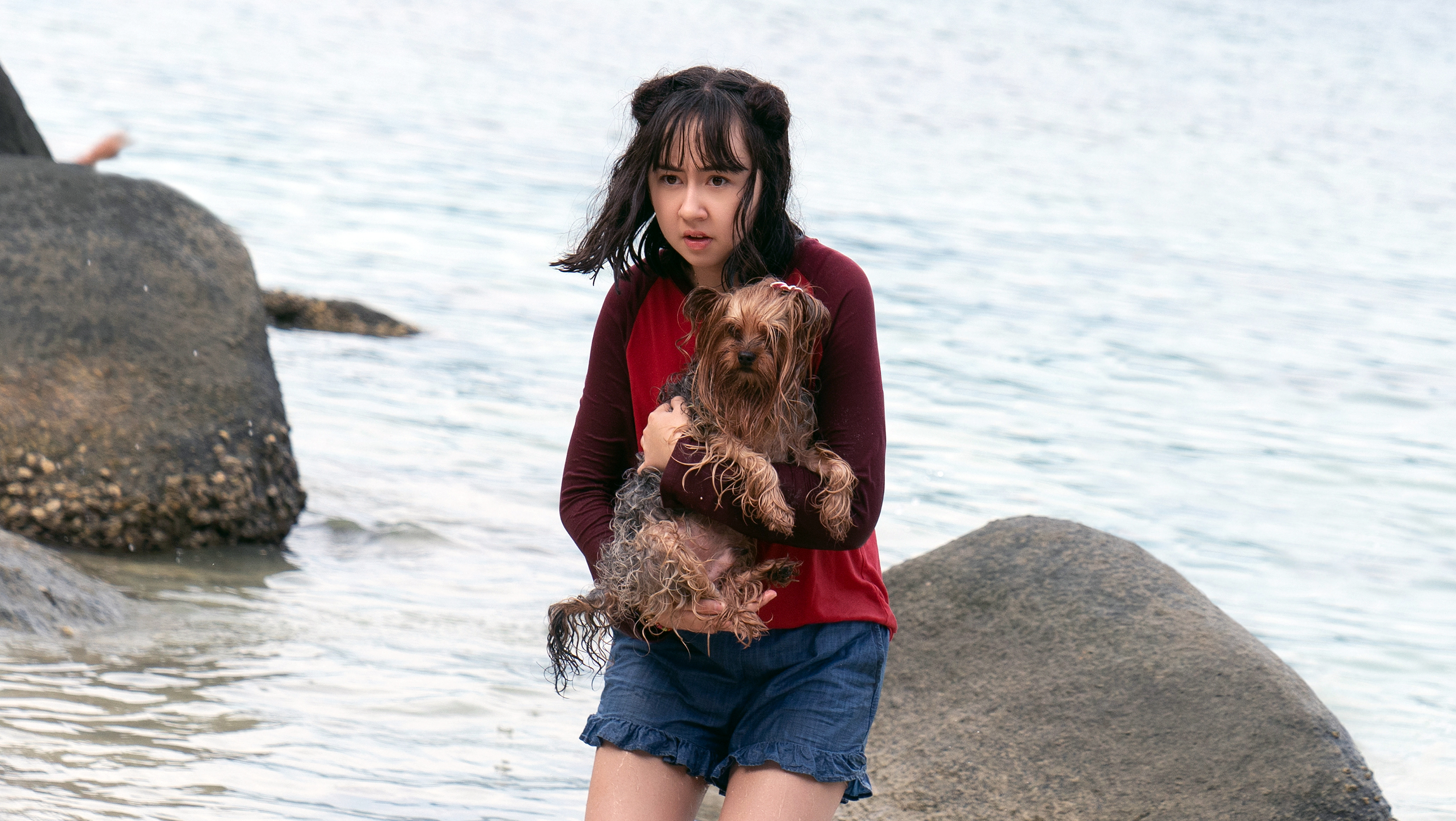 Photo courtesy of Warner Bros. Pictures. © 2023 WARNER BROS. ENT. ALL RIGHTS RESERVED.
Reprising her role from 2018's "The Meg," SOPHIA CAI (Meiying) was born in Shanghai to her Chinese mother and British father. She began her career at the age of two after being cast in a national television commercial. She has subsequently compiled an impressive resume that includes modeling, television commercials and roles in television and film.
Most recently, Sophia has appeared in Joseph Gordon-Levitt's "Mr. Corman" television series for Apple+. She is best-known for her role in the 2015 Chinese feature film "Somewhere Only We Know."
Sophia is fluent in both English and Mandarin and lives in New Zealand.
Shakespearean trained actor/rapper PAGE KENNEDY (DJ) previously collaborated with Jason Statham on the international box office hit "The Meg."
He also stars on the NAACP award-nominated Netflix series "The Upshaws," opposite Wanda Sykes and Mike Epps. On the TV side, Kennedy has been a series regular on numerous hit shows such as "Rush Hour," "Backstrom" and "Blue Mountain State." He's recurred and appeared on other major shows, such as "Southland," "Legit," "The Closer," "Justified," "Bones," "Weeds," "Barbershop" and "The Shield." He most recently appeared on FX hit "Snowfall."
Additional major feature credits include the Columbia Pictures feature "S.W.A.T.," the Lionsgate feature "In the Mix," the crime comedy "Freaky Deaky" and, more recently, Derege Harding's "Same Difference."
Renowned Spanish actor SERGIO PERSIS-MENCHETA (Montes) currently stars as a series regular in the FX original series "Snowfall." He can also be seen in the Amazon epic series "Boundless." His previous feature film credits include Adrian Grunberg's "Rambo: Last Blood," where he played the chief antagonist to Sylvester Stallone; Dan Fogelman's "Life Itself," opposite Annette Bening, Oscar Isaac, Antonio Banderas and Olivia Wilde; Taylor Hackford's "Love Ranch," alongside Helen Mirren; and the box office hit "Resident Evil: Afterlife." In Europe, amongst other projects, he is known for his work in "His Majesty Minor," directed by Jean- Jacques Annaud; "The Borgia"; "Les Marins Perdus," alongside Audrey Tautou; and "Agents Secrets," with Vincent Cassel and Monica Bellucci.
Sergio has slowly become one of Hollywood's most well-recognized Spanish actors. He began his acting career with the Spanish sleeper hit series "Al salir de clase." He subsequently appeared in several series, including "Robles," "investigador" and "Lobos," while also working on Spanish films such as "Jara," "The Art of Dying" and "Less is More." He was also nominated by the Unión de Actores for his roles in "Tierra de lobos" and "Isabel."
All the while, Sergio has had a deep passion for directing theatrical productions, including "Romeo and Juliet," "Incrementum," "The Kitchen," "Lehman's Trilogy," "Una Noche Sin Luna," "Castelvines y Monteses," and "Continuidad de los parques." In 2014 he won the Max Award (the equivalent of a Spanish Tony) for Best Director for his production of "Un trozo invisible de este mundo." He is fluent in Spanish, English, French and Italian.
SKYLER SAMUELS (Jess) came to prominence playing the title character of Chloe King in ABC Family's "Nine Lives of Chloe King," which garnered her a Teen Choice Award for Breakout Actress. Skyler followed that with a leading role in Ryan Murphy's Fox series "Scream Queens," opposite Emma Roberts, Lea Michele, Abigail Breslin and Keke Palmer.
She also worked with Ryan Murphy on FX's hit series "American Horror Story: Freak Show." Skyler starred in a series regular role on Fox's "The Gifted" and has appeared on such series as "The Rookie." More recently, she stepped into the role of Aurora Teagarden on the continuing mystery movie series for Hallmark, "Aurora Teagarden Mysteries." On the film side, Skyler played the lead role in the Lifetime feature "Switched Before Birth" and can be seen in leading roles such in Lionsgate's "Public Disturbance," Jenica Bergere's "Spare Room," CBS Films' "The DUFF" and Shane Dax Taylor's "Masquerade."
Photo courtesy of Warner Bros. Pictures. © 2023 WARNER BROS. ENT. ALL RIGHTS RESERVED.
Acclaimed and well known for his work in such films as "Whale Rider" and "Once Were Warriors," CLIFF CURTIS (Mac) has worked with some of the top filmmakers in the industry— including Darren Aronofsky, Danny Boyle, Jane Campion, Ted Demme, Antoine Fuqua, Michael Mann, David O. Russell and Martin Scorsese, to name a few. He produced and starred in the independent feature "The Dark Horse," garnering extraordinary reviews for his performance; he gained more than 60 pounds to play bipolar Maori speed-chess master Genesis Potini, who found purpose by teaching underprivileged children about the rules of chess and life.
Cliff is reprising his role from the original Warner Bros. hit feature "The Meg." Other recent film credits include "Doctor Sleep," opposite Ewan McGregor, and Universal's "Fast & Furious Presents: Hobbs & Shaw," opposite Dwayne Johnson and Jason Statham. On the TV side, Cliff starred for three seasons as the co-lead of AMC's "Fear the Walking Dead."
Curtis most recently starred in the second of the series of the global phenomenon "Avatar: The Way of Water"; he will continue the role of Tonowari in the next three installments. He was also seen in the Netflix feature "True Spirit," opposite Anna Paquin.
Photo courtesy of Warner Bros. Pictures. © 2023 WARNER BROS. ENT. ALL RIGHTS RESERVED.
ABOUT THE FILMMAKERS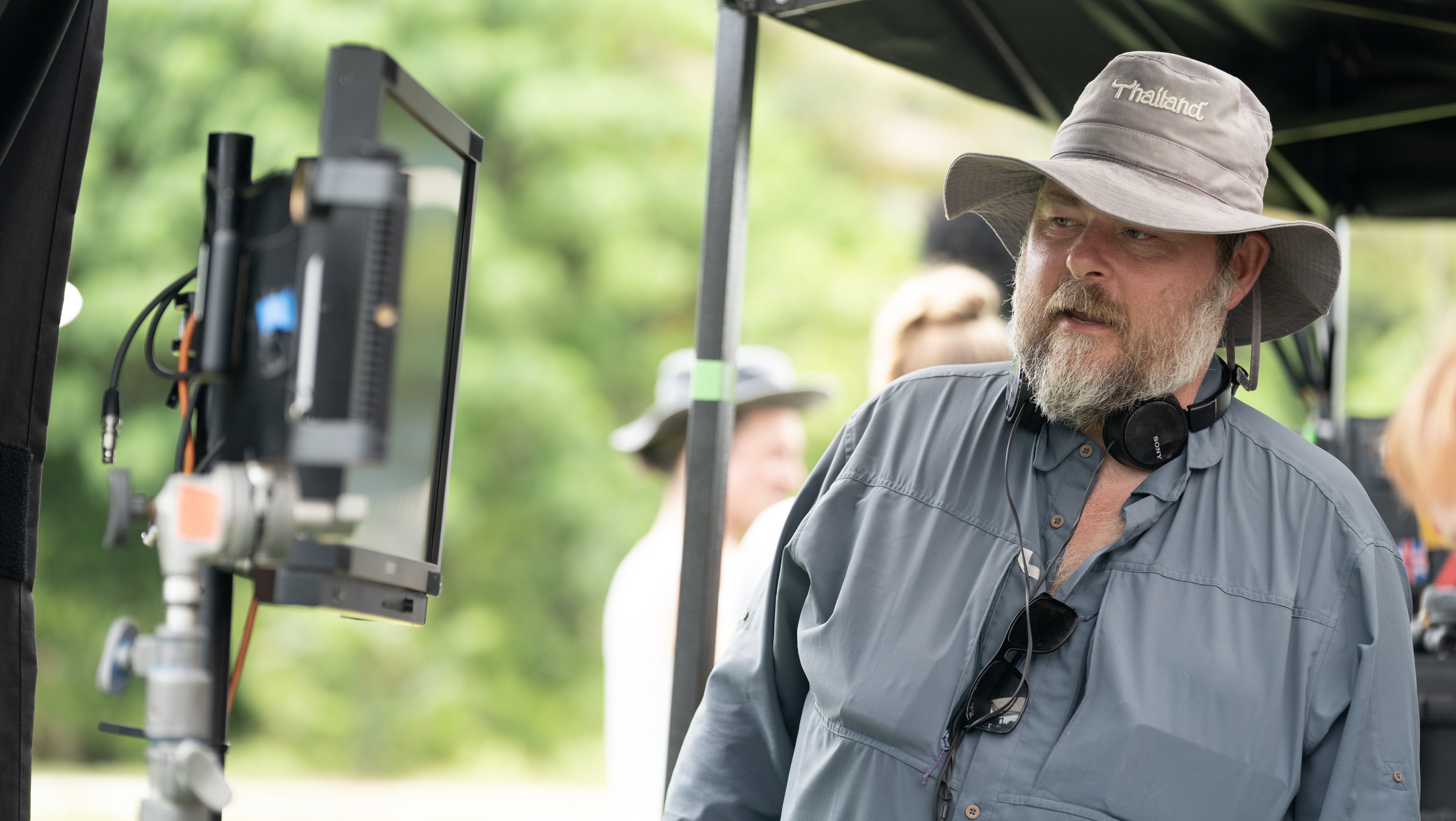 Photo courtesy of Warner Bros. Pictures. © 2023 WARNER BROS. ENT. ALL RIGHTS RESERVED.
BEN WHEATLEY (Director) is the award-winning British director of "Down Terrace," "Kill List," "Sightseers," "A Field in England," "High-Rise," "Free Fire," "Happy New Year, Colin Burstead," "Rebecca" and "In the Earth."
Wheatley started out directing live-action sections of the TV series "Modern Toss," which was aired on the UK's Channel 4. Between 2006 and 2009, he directed episodes of "The Wrong Door" and "Ideal" for the BBC.
In 2009, Wheatley directed his feature debut "Down Terrace," which went on to win prizes at Fantastic Fest and Raindance. 2011 saw the release of the thriller "Kill List." The first of five films written and co-edited by Amy Jump, it won prizes at Puchon International Fantastic Film Festival, the Empire Awards and the British Independent Film Awards.
Wheatley's third film was the black comedy "Sightseers"; the characters were created by its stars, Alice Lowe and Steve Oram, with writing by Jump; it premiered in Directors' Fortnight at the Cannes Film Festival in 2012 and won an Evening Standard British Film Award for Best Comedy and the Empire Award for Best British Film. Next came the psychedelic historical thriller "A Field In England," which won the Special Jury Prize at the Karlovy Vary International Film Festival.
In 2014, Wheatley premiered the first two episodes of the eighth series of "Doctor Who," a show of which he has been a fan since childhood.
"High-Rise" opened in March 2016 after screening at a number of key festivals around the world and a sold-out Q&A tour of 23 cinemas in the UK. "Free Fire" followed, debuting at Toronto Film Festival, where it won the Midnight Madness Audience Award; "Free Fire" was also the closing film for the 2016 London Film Festival. "Happy New Year, Colin Burstead" was nominated for Best Film in the official competition of the 2018 London Film Festival; it was also nominated for Best Editing at the British Independent Film Awards that year and the Audience Award at Thessaloniki Film Festival. Wheatley also directed three episodes of the CBS series "Strange Angel," which ran for two seasons in 2018 and 2019.
In 2019, Wheatley directed "Rebecca" for Working Title and Netflix; it premiered globally with huge viewing figures in October 2020.
In 2020, Wheatley wrote and directed "In the Earth" during the summer after the first lockdown of the pandemic. The film was bought worldwide by Focus features and was released to critical acclaim in June of 2021 when cinemas reopened—he was the first to be back in cinemas with a UK Q&A tour.
LORENZO DI BONAVENTURA (Producer) has produced some of the biggest franchises in Hollywood history. He began his career as a film studio executive and eventually rose to be President of Warner Bros., working on over 130 productions during his time there and bringing the "Harry Potter" and "Matrix" franchises to the studio. His biggest commercial and critical successes include "FallingDown," "A Time to Kill,""Three Kings,""Analyze This,""The Perfect Storm," "Ocean's Eleven" and "Training Day."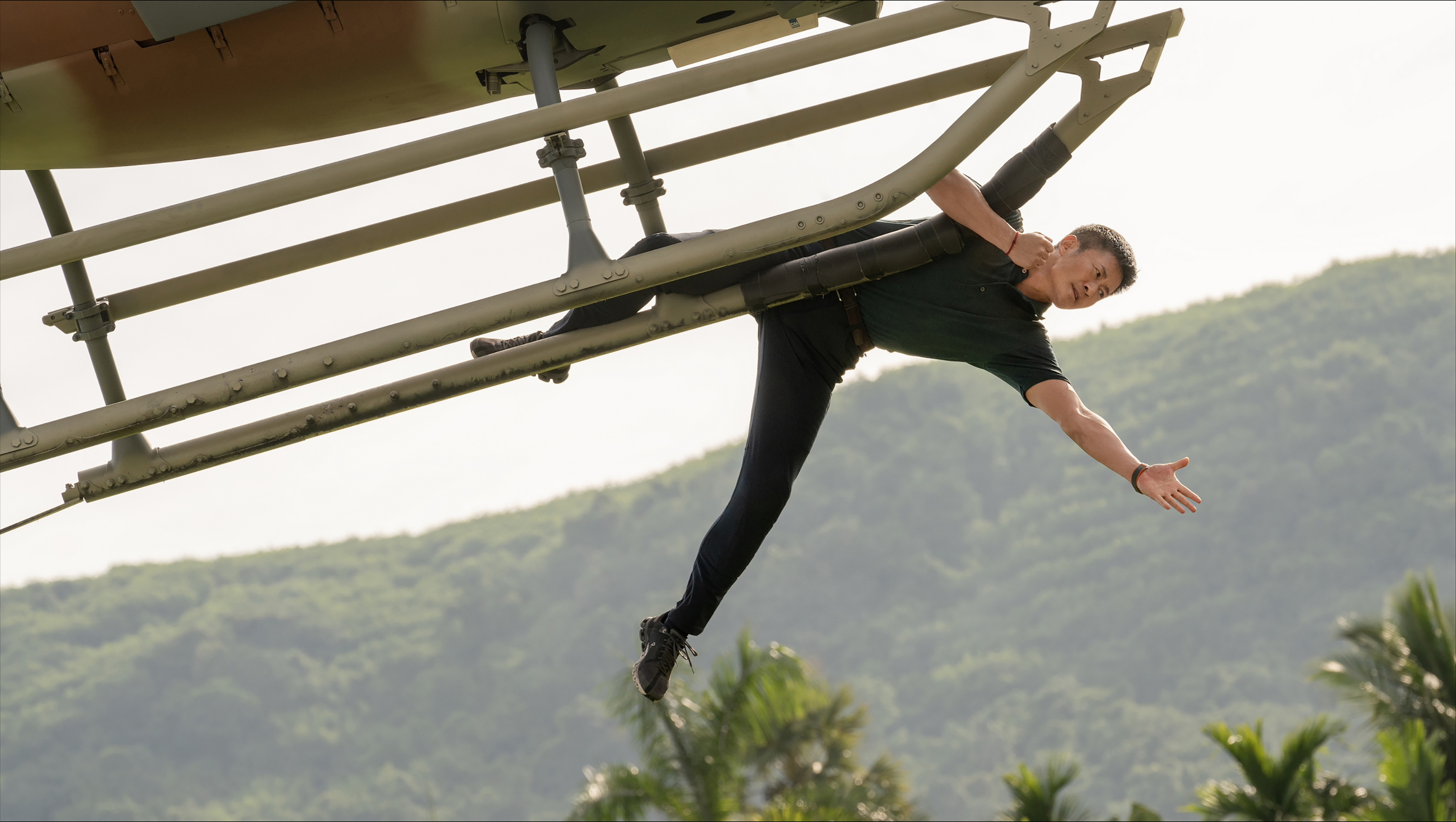 Photo courtesy of Warner Bros. Pictures. © 2023 WARNER BROS. ENT. ALL RIGHTS RESERVED.
In 2002, di Bonaventura left Warner Bros. and started di Bonaventura Pictures; since then he has produced over 40 movies which have earned more than $7 billion in global box office. di Bonaventura is best known for producing the "Transformers," "GI Joe" and "RED" franchises. Other films he's produced include "Constantine," starring Keanu Reeves; "Four Brothers," directed by John Singleton; "Shooter," directed by Antoine Fuqua and starring Mark Wahlberg; the psychological horror "1408," based on the short story by Stephen King; the adventure fantasy film "Stardust," based on the Neil Gaiman book of the same name; the espionage thriller "Salt," starring Angelina Jolie; "Deepwater Horizon," directed by Peter Berg and starring Mark Wahlberg, Kurt Russell and Kate Hudson; "American Assassin," the film adaptation of Vince Flynn's best-selling political thriller, starring Dylan O'Brien and Michael Keaton; the global box office hit "The Meg," starring Jason Statham and Li Bingbing; and the latest installment in the "Transformers" franchise, "Transformers: Rise of the Beasts," starring Anthony Ramos and Dominique Fishback.
Upcoming films include the follow-up sequel "Meg 2: The Trench," with Jason Statham and Wu Jing; Sony/Marvel's "Madame Web," directed by S.J. Clarkson, starring Dakota Johnson and Sydney Sweeney; and the animated film "Transformers One," directed by Josh Cooley with Chris Hemsworth, Brian Tyree Henry and Scarlett Johansson as voice cast.
Having moved into television in 2011, di Bonaventura is currently executive producing the Apple+ series "The New Look," which explores the rise of Christian Dior.
di Bonaventura received his undergraduate degree in intellectual history at Harvard College and his Master of Business Administration at the University of Pennsylvania's Wharton School of Business. He was awarded the Golden Eye Career Achievement Award from the Zurich Film Festival in 2016. He is on the Board of Trustees for both Emerson College and Claremont Graduate Universities and on the honorary committee of the Epilepsy Foundation of Greater Los Angeles.
BELLE AVERY (Producer) is an award-winning producer who has worked in many facets of the entertainment industry on a global level for more than 25 years. Avery's entertainment career started in editing and copywriting at an award-winning boutique trailer house in the film industry.
Avery adapted two important novels, In Search of Sugihara and Man's Fate. "In Search of Sugihara" is an adaptation of Professor Hillel Levin's historical biography about an elusive Japanese diplomat who risked his life to rescue 10,000 Jews during the Holocaust, which won the Academy Award. "Man's Fate" is an adaptation of the famous Andre Malraux novel about human suffering during the Chinese Revolution. Avery also produced "Before the Devil Knows You're Dead" with Academy Award winner Sidney Lumet directing; the film won the coveted American Film Institute Award.
Avery developed and produced "The Meg," which she optioned from author Steve Alten and then strategically developed as a co-production with China/Gravity Pictures—putting together the financing and distribution for the project, before taking it to Warner Bros. for a worldwide distribution deal (Ex-China).
"The Meg" was the blockbuster hit of Summer 2018 and was the most successful US/China co-production to date, bringing in global revenues of over $530 million at the box office.
Avery is currently developing "The Loch," based on another Steve Alten novel to go into production in 2023.
JON HOEBER & ERICH HOEBER (Screenplay by / Screen Story by) have worked in a wide array of genres and formats during their 20-year stint in Hollywood. First gaining traction with the 1998 Sundance hit "Montana" starring Kyra Sedgwick and Stanley Tucci, the team began a prolific run in features, television, and graphic novels.
They have since written the screenplays for such films as "RED," starring Bruce Willis, John Malkovich and Helen Mirren; the sequel, "RED 2," reuniting the main cast; "Battleship," starring Taylor Kitsch and Alexander Skarsgård; the global hit "The Meg" (along with Dean Georgaris); "My Spy," which they also executive produced for Amazon; and the recent blockbuster "Transformers: Rise of the Beasts."
The brothers have more recently penned the sequel "My Spy: The Eternal City" (which they are also executive producing), as well as a live-action adaptation of the beloved Manga Naruto.
DEAN GEORGARIS (Screenplay by / Screen Story by) is the creator and executive producer of the drama series "The Brave." Georgaris also wrote the screenplay (along with Jon Hoeber & Erich Hoeber) for the global hit "The Meg."
Georgaris began his writing career with the screenplay for the hit action adventure "Lara Croft Tomb Raider: The Cradle of Life," starring Angelina Jolie and Gerard Butler. He went on to write the screenplays for John Woo's action drama "Paycheck" and Jonathan Demme's remake of "The Manchurian Candidate."
In addition, Georgaris produced the horror thriller "The Crazies," and executive produced the comedy "What Happens in Vegas." He more recently served as executive producer on Ang Lee's critically acclaimed film adaptation of "Life of Pi," which received a total of 129 award nominations and 82 award wins, including four Oscars and one Golden Globe.
Photo courtesy of Warner Bros. Pictures. © 2023 WARNER BROS. ENT. ALL RIGHTS RESERVED.
HARIS ZAMBARLOUKOS' (Director of Photography) recent work on Kenneth Branagh's "Belfast" garnered him 14 best cinematography award nominations, including nods from the American Society of Cinematographers, the Critics' Choice Award and the British Independent Film Award.
A longtime collaborator with Branagh, they have worked together on "Death on the Nile," "Artemis Fowl," "Murder on the Orient Express," "Cinderella," "Jack Ryan," "Sleuth" and "Thor." He also filmed Branagh's latest, "A Haunting in Venice."
In 1999 Haris shot his first US feature "Camera Obscura." In 2004 he earned a nomination for Best Technical Achievement at the British Independent Film Awards for "Enduring Love" (with Daniel Craig) and quickly went on to build a reputation through his work on films such as "Venus" (starring Peter O'Toole). Further films include Richard Eyre's "The Other Man," Gillian Armstrong's "Death Defying Acts" (starring Guy Pearce and Catherine Zeta Jones, for which he was nominated for a 2008 AFI Award for Best Cinematography), Phyllida Lloyd's larger-than- life musical version of "Mamma Mia," "Locke" (written and directed by Steve Knight) and "Eye in the Sky" (directed by Gavin Hood).
Zambarloukos received his Master of Fine Arts in cinematography from the American Film Institute in 1997 and was mentored by Conrad Hall on "A Civil Action," after which he shot many commercials, documentaries and shorts in the US, Europe and Central America.
The AFI thesis film "First Daughter" won numerous awards—including the 1998 San Jose Film Festival, the 1997 City of Angels Film Festival and the Empire State Film Festival—and it received the International Cinematographers Guild Award for Artistic Achievement in Cinematography.
Zambarloukos has shown a wide range of ability, fulfilling the promise signified by his inclusion in Variety's 2006 list of "10 to watch: Cinematographers."
He has served as Vice President of the British Society of Cinematographers and the Greek Society of Cinematographers; he is also a member of the British Academy of Film and Television Arts, the European Film Academy and the Academy of Motion Picture Arts and Sciences.
CHRIS LOWE (Production Designer) recently co-designed The Russo Brothers' "Gray Man" with designer Dennis Gassner. Lowe also served as the production designer on the upcoming biography feature film "Bob Marley: One Love," starring Kingsley Ben-Adir from director Reinaldo Marcus Green.
An extremely experienced supervising art director with over 30 years' experience in his field, Lowe is a longtime collaborator with Gassner, having worked with him on several Bond films, including Sam Mendes' "Spectre" and "Skyfall" (for which he won the ADG Award for Excellence in Production Design) and Marc Forster's "Quantum of Solace," along with Rob Marshall's "Into the Woods" and Chris Weitz's "The Golden Compass" (winning another ADG Excellence in Production Design Award).
For his work as a supervising art director on Cary Fukunaga's "No Time to Die," Lowe also won the ADG Award for Excellence in Production Design; he also received nominations from the ADG for Tim Burton's "Dumbo," Rian Johnson's "Star Wars: Episode VIII – The Last Jedi" and Fernando Meirelles' "The Constant Gardner."
As a supervising art director, Lowe has worked on numerous films, including George Clooney's "The Monuments Men," Marc Forster's "World War Z," Tim Burton's "Dark Shadows" and Joe Johnston's "Captain America: The First Avenger," amongst many others.
JONATHAN AMOS (Editor) has worked on numerous feature films, including a previous collaboration with director Ben Wheatley on "Rebecca," along with Craig Roberts' "The Phantom of the Open"; Joe Cornish's "The Kid Who Would Be King" and "Attack the Block"; Paul King's "Paddington 2"; Edgar Wright's "Baby Driver" and "Scott Pilgrim vs. The World"; Louis Letterier's "Grimsby"; Amma Asante's "A United Kingdom"; Jeremy Lovering's "In Fear"; and Nick Cave's feature documentary "20,000 Days on Earth."
Television credits include "Lockwood & Co.," directed by Joe Cornish for Netflix; BBC's "Pram Face"; "Free Agents" for Big Talk; Mitchell and Webb's "Peep Show"; "Spooks"; and "Ashes to Ashes" for Kudos.
Amos' awards include the Best Film Editing Award at the 2018 BAFTAs, Best Film Editing award at the 2018 Critics Choice Awards and a nomination for Best Film Editing at the 2018 Academy Awards, all for "Baby Driver." He won the 2010 San Diego Film Critics Society Award for Best Editing for "Scott Pilgrim vs. The World," for which he was also nominated for Best Editing of a Feature at the Annual ACE Eddie Awards in 2011. He was also honored with the Editing Award for World Cinema Documentary at the 2014 Sundance Film Festival for "20,000 Days On Earth."
Photo courtesy of Warner Bros. Pictures. © 2023 WARNER BROS. ENT. ALL RIGHTS RESERVED.
HARRY GREGSON-WILLIAMS (Composer) is one of Hollywood's most sought-after and prolific composers, whose long list of film and television credits underscore the diverse range of his talents. His latest projects include Ridley Scott's biographical drama "House of Gucci" and historical action drama "The Last Duel"; Antoine Fuqua's sci-fi thriller "Infinite" and thriller "The Equalizer 2," starring Denzel Washington; Niki Caro's live-action "Mulan"; the global hit "The Meg"; and Aardman Animation's "Early Man." Currently, he is writing the original score for Nimród Antal's "Retribution" and Aardman's "Chicken Run: Dawn of the Nugget."
Gregson-Williams created the main title theme and scored two episodes for Amazon's 10- episode sci-fi anthology series "Philip K. Dick's Electric Dreams." For the episode titled "The Commuter," he received an Emmy nomination in the category of Outstanding Music Composition for a Limited Series, Movie or Special (Original Dramatic Score).
Earlier, Gregson-Williams was the composer on all four installments of the animated blockbuster "Shrek" franchise, garnering a BAFTA Award nomination for the score for the Oscar- winning "Shrek." He also received Golden Globe and Grammy Award nominations for his score for Andrew Adamson's "The Chronicles of Narnia: The Lion, The Witch and The Wardrobe."
Gregson-Williams has collaborated multiple times with a number of directors, including Ben Affleck on the films "Live by Night," "The Town" and "Gone Baby Gone"; Joel Schumacher on "Twelve," "The Number 23," "Veronica Guerin" and "Phone Booth"; Tony Scott on "Unstoppable," "The Taking of Pelham 1 2 3," "Déjà Vu," "Domino," "Man on Fire," "Spy Game" and "Enemy of the State"; Ridley Scott on "Alien: Covenant," "The Martian," "Prometheus" and "Kingdom of Heaven"; Bille August on "Return to Sender" and "Smilla's Sense of Snow"; Andrew Adamson on "The Chronicles of Narnia: Prince Caspian" and "Mr. Pip"; and Antoine Fuqua on "The Replacement Killers" and "The Equalizer."
His many other credits include the scores for Simon Baker's directorial debut, "Breath"; Niki Caro's "The Zookeeper's Wife"; the telefilm "Confirmation"; Catherine Hardwicke's "Miss You Already"; "Blackhat," for director Michael Mann; Len Wiseman's "Total Recall"; Jon Favreau's "Cowboys & Aliens"; the documentary "Life in a Day"; Mike Newell's "Prince of Persia: The Sands of Time"; Gavin Hood's "X-Men Origins: Wolverine"; and Beeban Kidron's "Bridget Jones: The Edge of Reason." Gregson-Williams has also created the scores for a variety of animated features, including Aardman's "Arthur Christmas," "Flushed Away," the Oscar- winning "Chicken Run" and "Antz."
Gregson-Williams has scored three of the five games in the highly successful "Metal Gear Solid" franchise for Konami and scored "Call of Duty" for Activision, which became the top- selling video game of 2014 and which earned him various music gaming awards.
Born in England to a musical family, Gregson-Williams earned a music scholarship to St. John's College, Cambridge at the age of seven, and subsequently gained a coveted spot at London's Guildhall School of Music & Drama, from which he later received an Honorary Fellowship. He started his film career as assistant to composer Richard Harvey and later as orchestrator and arranger for Stanley Myers, and then went on to compose his first scores for director Nicolas Roeg. His subsequent collaboration and friendship with composer Hans Zimmer led to Gregson-Williams providing music for such films as "The Rock," "Armageddon" and "The Prince of Egypt," and helped launch his career in Hollywood.
He has also been a regular and valued mentor at the Sundance Composers Lab, working directly with talented emerging composers from all over the world.
LINDSAY PUGH (Costume Designer) is a talented and versatile designer, with years of experience working in productions with casts of thousands, independent films with small budgets, studio work and in projects with crews located across multiple continents. Her designs can be theatrical and extravagant, contemporary and understated, or wildly futuristic. All are meticulously researched and carefully constructed.
The costumes she creates reflect her rigorous training in all aspects of costume work and the depth of her experience in multiple genres. Her wide-ranging background in theatre wardrobe for the Royal Shakespeare Company (and Peter Brook's original "Mahabharata") and in costume supervision for award-winning designers on projects including "Charlie and the Chocolate Factory," "Cold Mountain" and "The Hours" is evident in her own work.
Her costume design ability ranges across styles and eras, from raucous commedia dell'arte to elegant Golden Age to sleek sci-fi (as seen in "The Matrix" and "Krypton"). Her period work includes "And Then There Were None," "The ABC Murders," "The Frankenstein Chronicles" and "Dancing on the Edge" (for which she was nominated for Best Costume Design by the Royal Television Society). In the more contemporary aesthetic, she has successfully collaborated with director Jesse Peretz on "Juliet, Naked" and Lily and Lana Wachowski on the Netflix series "Sense8." Impressed by her work, Lana Wachowski asked her to costume design "The Matrix Resurrections."
Her work will next be seen in the upcoming Marvel action adventure, "The Marvels," and in the live-action version of "How to Train Your Dragon."

Photo courtesy of Warner Bros. Pictures. © 2023 WARNER BROS. ENT. ALL RIGHTS RESERVED.
---
About Warner Bros. Pictures Group
Warner Bros. Pictures Group produces and distributes a wide-ranging slate of some 18-22 films each year, employing a business paradigm that mitigates risk while maximizing productivity and capital. Warner Bros. Pictures either fully finances or co-finances the films it produces and maintains worldwide distribution rights. It also monetizes its distribution and marketing operations by distributing films that are totally financed and produced by third parties. Warner Bros. Pictures is also a global leader in the marketing and distribution of feature films, operating offices in more than 30 countries and releasing films in over 120 international territories, either directly to theaters or in conjunction with partner companies and co-ventures.