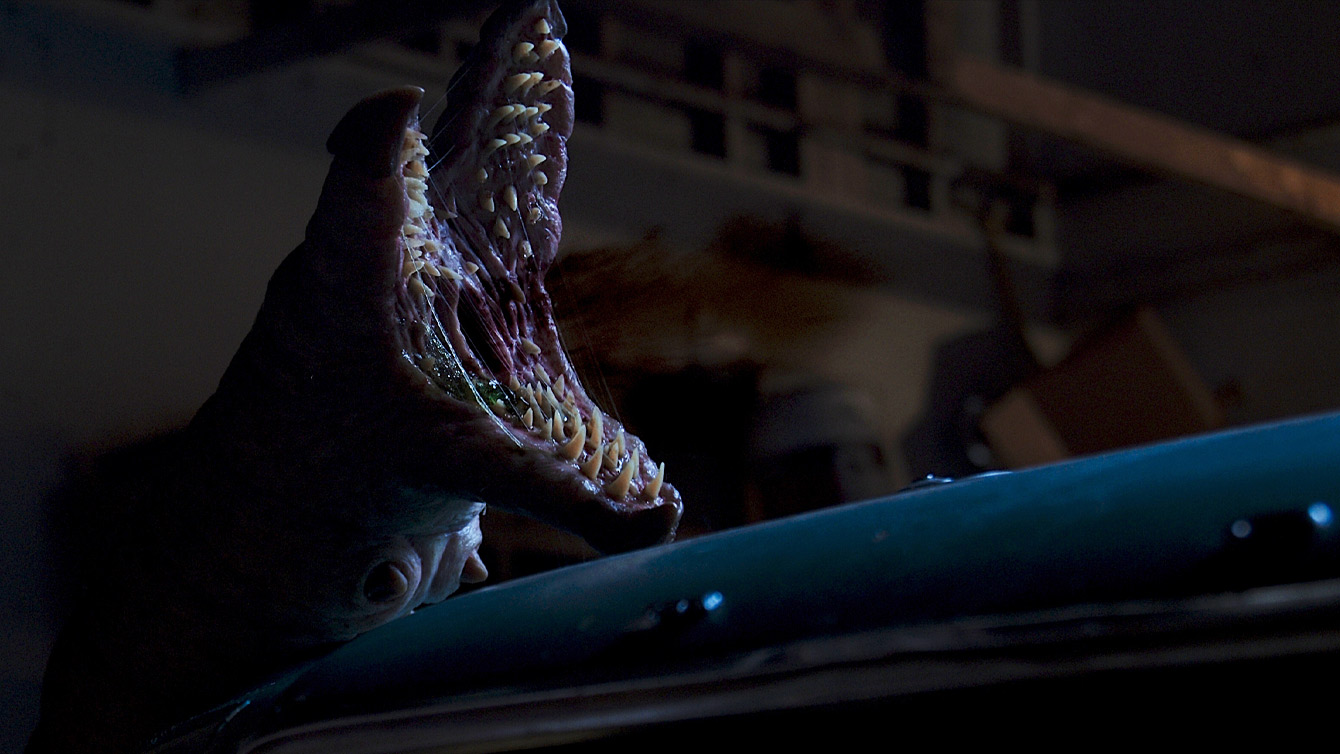 Photo courtesy of Well Go USA. ©2022 All Rights Reserved
Source: Well Go USA, MPRM Communications
Special Thanks to Leif Helland
Well Go USA is offering SciFi Japan readers a chance to win THEY CRAWL BENEATH, the the practical effects-driven Sci-Fi creature feature reminiscent of the fun horror films of the 1950s. Directed by Dale Fabrigar (D-RAILED, LONELY BOY), the nail-biting thriller stars Michael Pare (THE LINCOLN LAWYER), Joseph Almani (LAW OF ATTRACTION), Arthur Roberts (NOT OF THIS EARTH), Merrick McCartha (TWISTED TWIN), Karlee Eldridge (HOUSE OF BODIES), Elena Sahagun (TREMORS 3: BACK TO PERFECTION) and Natalia Bilbao (NO MAN'S LAW).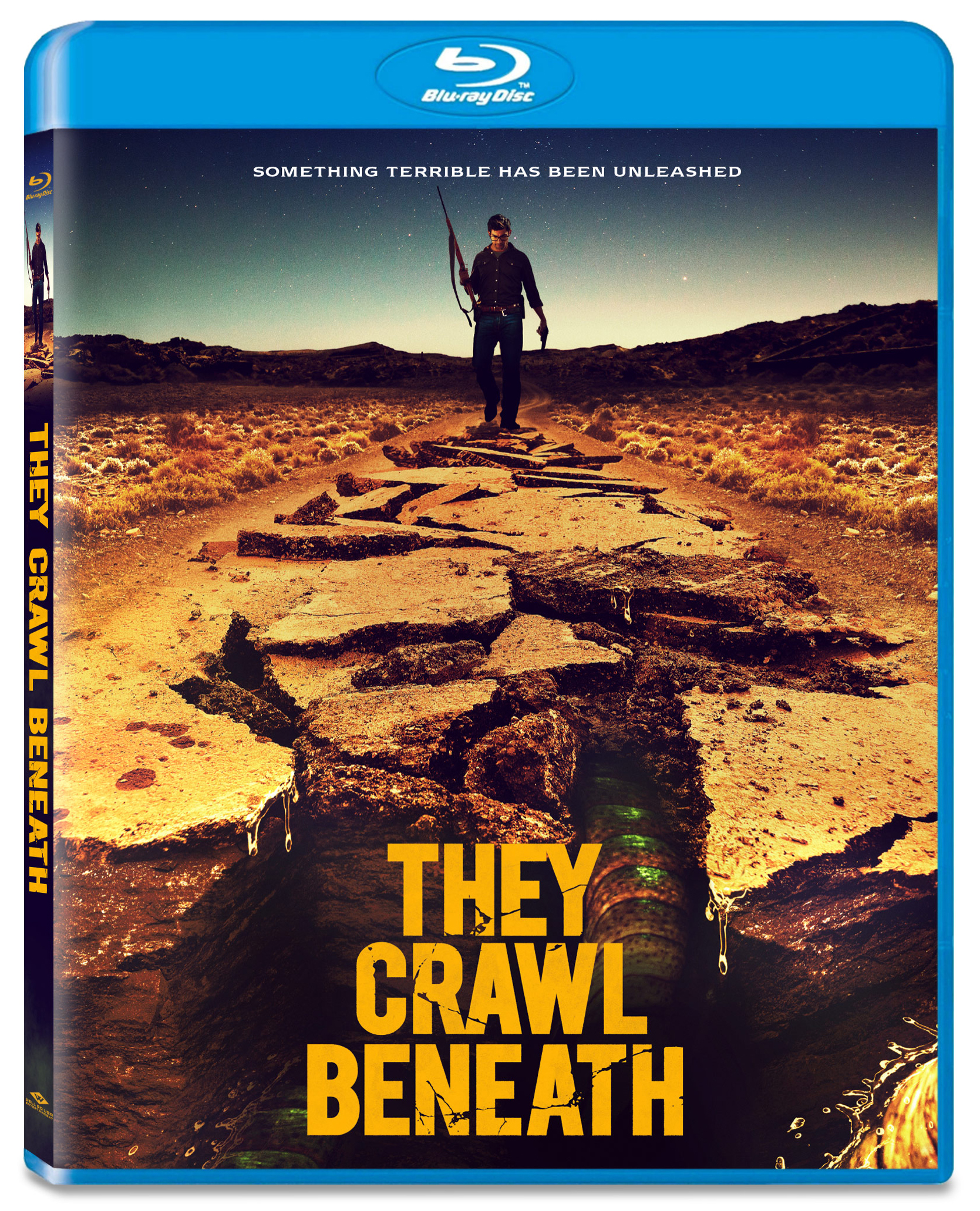 Photo courtesy of Well Go USA. ©2022 All Rights Reserved
THEY CRAWL BENEATH had its world premiere at the Texas Frightmare Festival and will also be screening at the Horror Hotel Film Fest and the Halloween Horror Picture Show.
The film will be available on Blu-ray ($29.98), DVD ($19.99) and Digital HD on October 4, but here is your opportunity to win the Blu-ray edition for free!
Synopsis
Young police officer Danny (Joseph Almani) is working on an antique car at his uncle's remote ranch when a major earthquake hits, pinning him under the vehicle and leaving him bloodied, alone, and with no way to call for help. Just when he thinks the claustrophobic nightmare can't get any worse, something truly horrifying emerges from the fissures in the ground, forcing Danny to engage in a brutal fight for his life—and his sanity.
OFFICIAL CONTEST RULES and INFORMATION
Prize:
A. There are four (4) prizes, with each prize consisting of one (1) THEY CRAWL BENEATH Blu-ray.
B. Prizes will be shipped to the contest winners so entrants must include a valid mailing address. This contest is only open to participants in the United States and Canada.
C. In the event that a winner chooses not to (or cannot) accept a prize, he or she forfeits all claim to that prize.
D. One entry per person. Prizes are non-transferable. No substitution of prizes allowed.
Duration of contests:
A. The "THEY CRAWL BENEATH" contest runs from September 30 until 11:59pm on October 7, 2022.
How to enter:
A. Submit your name, email address, and mailing address for the random drawing.
B. Be sure to write "THEY CRAWL BENEATH" in the subject header of your email entry. SciFi Japan often runs multiple contests at the same time, so any entries without "THEY CRAWL BENEATH" in the subject header will be discarded.
Determination of winners:
A. Only contestants who have submitted the requested information will be entered in the final drawing. The first four randomly drawn eligible entries will be judged the winners for this contest.
B. SciFi Japan is not responsible for typographical, electronic or other errors in Internet operation affecting the offering, outcome, administration of the contest or the announcement of prizes. Void where prohibited or restricted by law.
C. The decision of Well Go USA and SciFi Japan is final. Entrants agree to be bound by these Official Rules and by the decisions of the SciFi Japan judges, which are final and binding in all respects.
D. Following the drawing, winners will be notified via email.
"THEY CRAWL BENEATH" CONTEST
Just email the following info to "THEY CRAWL BENEATH" at This email address is being protected from spambots. You need JavaScript enabled to view it. and you`re in the contest. Good luck!
Name:
Email Address:
Mailing Address:
Photo courtesy of Well Go USA. ©2022 All Rights Reserved
---
About Well Go USA
Well Go USA, Inc. is a theatrical and home entertainment distribution company that specializes in bringing top content, including the best in Asian Cinema to North America. As a leader in independent film distribution, Well Go`s titles can be seen across a variety of formats and platforms including in theaters, on DVD, Blu-ray, digital (video-on-demand, electronic sell-through and streaming) and broadcast television through cable and satellite. Since 1994, Well Go has acquired and released over 2,000 titles worldwide. In 2005, Well Go expanded its distribution to North America where five to ten titles are released monthly. Well Go USA`s corporate headquarters are in Plano, TX with offices in Taiwan and China.