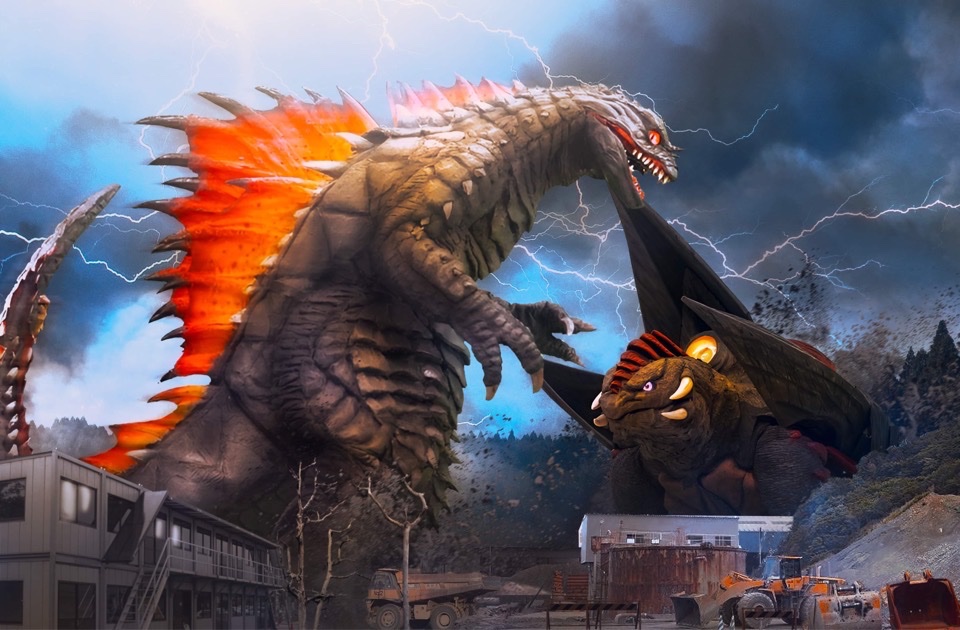 Photo courtesy of Avery Guerra ©Showa Tokusatsu Monster Film Cooperation Corps
Source: SRS Cinema LLC
Special Thanks to Avery Guerra
A SCIFI JAPAN EXCLUSIVE
Photo courtesy of SRS Cinema. ©Showa Tokusatsu Monster Film Cooperation Corps
SRS Cinema has licensed director Shinpei Hayashiya`s WAR OF THE NINJA MONSTERS: JARON VS. GOURA (忍獣大戦記 蛇龍対號羅, Shinobu Kemono Daisenki Daryū Tai Goura) for release in North America. This continues an ongoing relationship between the distributor and filmmaker as SRS has previously released Hayashiya`s daikaiju movies REIGO; KING OF THE SEA MONSTERS (深海獣レイゴー Shinkaijū Reigō,, 2005/2008), RAIGA: GOD OF THE MONSTERS ( (深海獣雷牙 Shinkaijū Raiga, 2009) and GOD RAIGA VS KING OHGA (深海獣雷牙 対 溶岩獣王牙, Shinkaijū Raiga tai Yōganjū Ōga, 2019).
Details are being finalized, but SRS Cinema is expected to soon announce preorders for Blu-ray and VHS Special Editions for early 2024, with a wide release DVD edition to follow later next year.
Story
The ninja monsters Jaron and Goura appear in the city of Chichibu, and rival ninja clans manipulate the ninja beasts into a fierce battle.
SRS Cinema has been distributing indie movies from around the world for over 31 years. The company specializes in everything from obscure indie shot-on-analog-video horror to international science-fiction kaiju, and anything in between.
Photo courtesy of Avery Guerra ©Showa Tokusatsu Monster Film Cooperation Corps
---
About SRS Cinema LLC
SRS Cinema LLC is among the leaders in ultra low budget indie film distribution, having evolved to it's current form from it's roots as "Salt City Home Video" in 1992. They have handled rights to over 300 movies domestically and worldwide. SRS Cinema now distributes DVD exclusively through MVD, while their Sub Rosa branch handles limited special edition VHS releases.