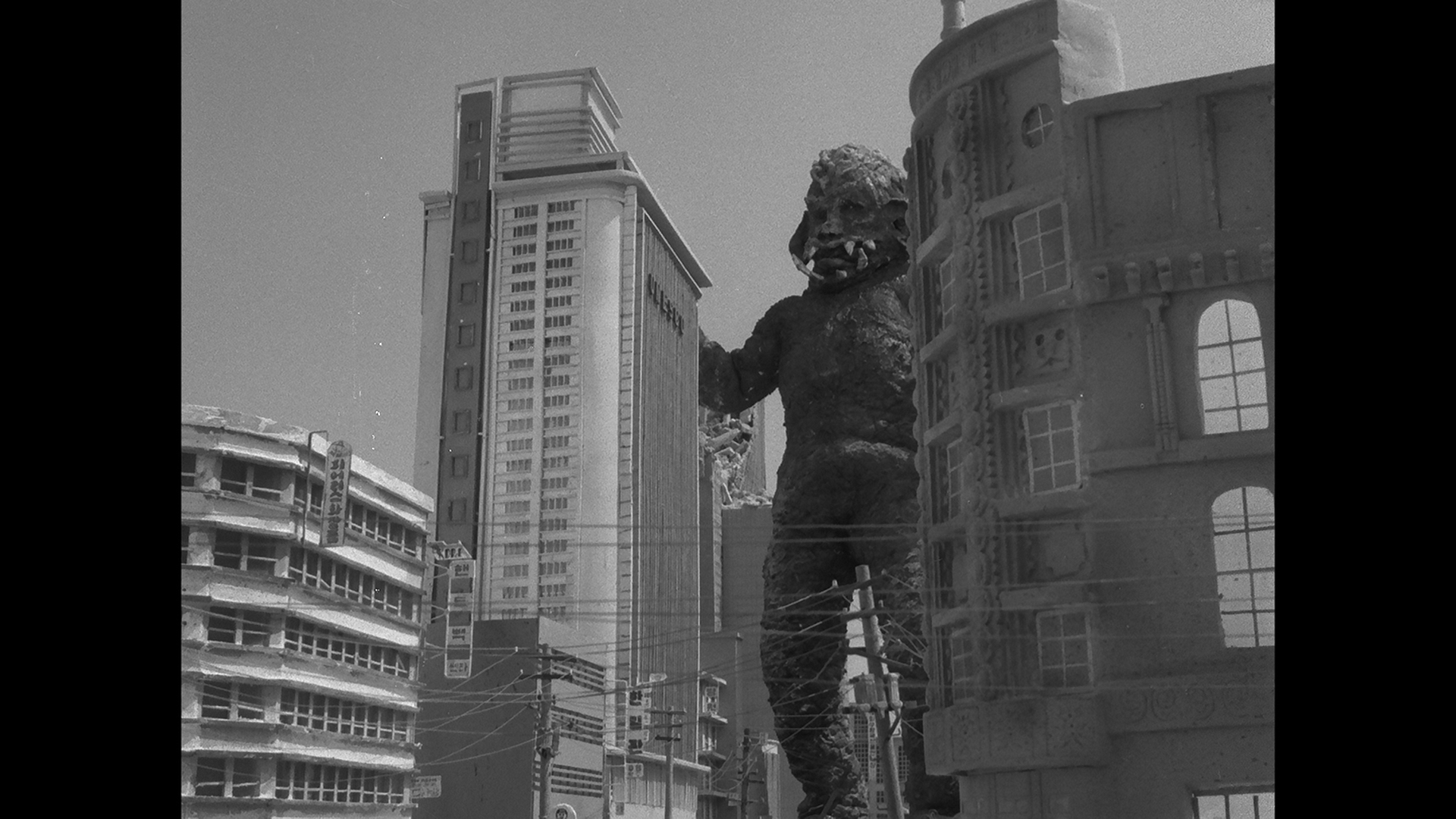 The long unseen Korean monster movie SPACE MONSTER WANGMAGWI finally makes it North American debut, thanks to SRS Cinema! Photo courtesy of SRS Cinema and Avery Guerra.
Source: SRS Cinema LLC
Special Thanks to Avery Guerra
A SCIFI JAPAN EXCLUSIVE
Distributor SRS Cinema has licensed North American home media rights to the Golden Fleece of obscure unreleased kaiju films!
Outside of the 1930s Japanese King Kongs, the original DAIBUTSU KAIKOKU, and the 1962 version of BULGASARI (Pulgasari), which are all considered lost films... the Korean production SPACE MONSTER WANGMAGWI (우주괴인 왕마귀, Ujugoein Wangmagwi, 1967) is the most sought after of obscure unreleased kaiju movies. It was thought lost for decades until the Korean Film Archive recently held a few festival screenings in their home country.
Directed by Gwon Hyeok-jin (THE SWORDSMAN), this sci-fi film depicts the arrival of a gigantic space creature named Wangmagwi (Big Devil) who plans to conquer the Earth. Landing in Korea, the alien goes on a rampage of destruction.
Up until now SPACE MONSTER WANGMAGWI has never been released anywhere in the world on physical or digital media. After years of attempts by various companies to obtain this obscure gem, the persistence of Ron Bonk and Avery Guerra finally paid off! SRS Cinema is proud to announce that they have secured North American distribution for the film with plans to release SPACE MONSTER WANGMAGWI in limited editions this August or September.
Visit http://www.srscinema.com/ in the coming months for updates on the release of SPACE MONSTER WANGMAGWI. And be sure to check out SRS Cinema's previous Korean kaiju release; 1984's WAR OF THE GOD MONSTERS (비천괴수, Bicheongoesu), available now on Blu-ray, DVD and VHS.
Photo courtesy of SRS Cinema and Avery Guerra.
---
About SRS Cinema LLC
SRS Cinema LLC is among the leaders in ultra low budget indie film distribution, having evolved to it's current form from it's roots as "Salt City Home Video" in 1992. They have handled rights to over 300 movies domestically and worldwide. SRS Cinema now distributes DVD exclusively through MVD, while their Sub Rosa branch handles limited special edition VHS releases.