Source: Diamond Select Toys
Special Thanks to Zach Oat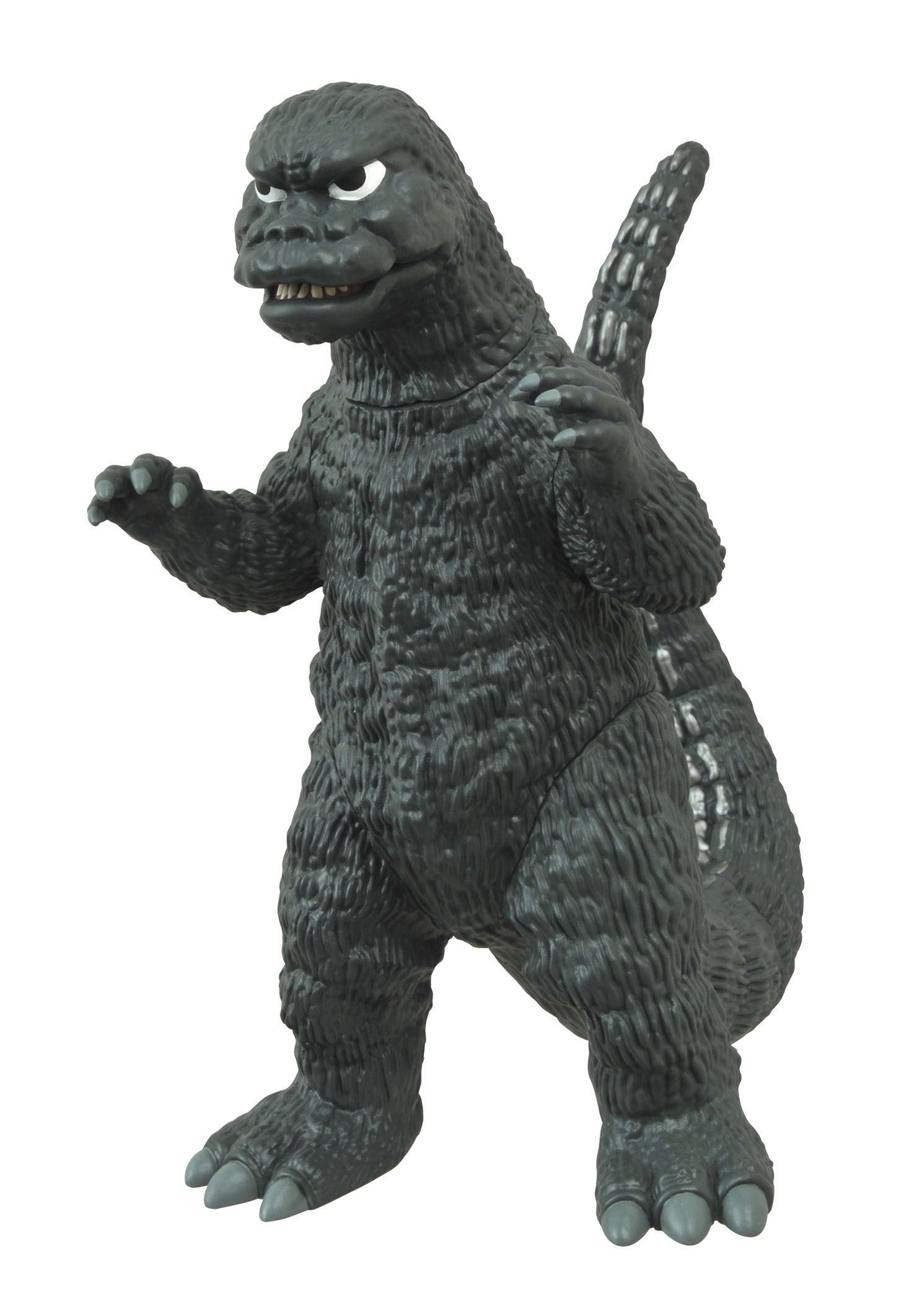 Win a Godzilla 1974 Figural Bank from Diamond Select Toys and SciFi Japan! Photo courtesy of Diamond Select. TM & © TOHO CO., LTD.
Diamond Select Toys is offering SciFi Japan readers a chance to win their Godzilla 1974 Figural Bank. Sculpted by Gentle Giant, this full-figure vinyl bank depicts Godzilla, exactly as he appeared in 1974`s GODZILLA VS. MECHAGODZILLA (ゴジラ対メカゴジラ, Gojira Tai Mekagojira). The 12-inch rendition of the King of All Monsters in his full 1970s glory features a coin slot on his back and a removable tail that reveals an access door. Measuring 18 inches long from nose to tail, he is the perfect addition to any Godzilla collection! The suggested retail price is $39.99.
Diamond Select Toys' Godzilla collectibles can now be ordered internationally from their web store.
OFFICIAL CONTEST RULES and INFORMATION
Prize:
A. There are two (2) prizes, each consisting of one (1) Godzilla 1974 Figural Bank.
B. The prizes will be shipped to the contest winners so entrants must include a valid mailing address. This contest is only open to participants in the United States and Canada.
C. In the event that a winner chooses not to (or cannot) accept a prize, he or she forfeits all claim to that prize.
D. One entry per person. Prizes are non-transferable. No substitution of prizes allowed.
Duration of contests:
A. The "Godzilla 1974 Figural Bank" contest runs from August 26 until 11:59pm on September 10, 2021.
How to enter:
A. Submit your name, email address, and mailing address for the random drawing.
B. Be sure to write "Godzilla 1974 Figural Bank" in the subject header of your email entry. SciFi Japan often runs multiple contests at the same time, so any entries without "Godzilla 1974 Figural Bank" in the subject header will be discarded. Exact punctuation is not necessary; we just need to know which contest you are entering.
Determination of winners:
A. Only contestants who have submitted the requested information will be entered in the final drawing. The first two randomly drawn eligible entries will be judged the winner for this contest.
B. SciFi Japan is not responsible for typographical, electronic or other errors in Internet operation affecting the offering, outcome, administration of the contest or the announcement of prizes. Void where prohibited or restricted by law.
C. The decision of Diamond Select Toys and SciFi Japan is final. Entrants agree to be bound by these Official Rules and by the decisions of the SciFi Japan judges, which are final and binding in all respects.
D. Following the drawing, winners will be notified via email.
THE "Godzilla 1974 Figural Bank" CONTEST
Email the following info to "Godzilla 1974 Figural Bank" at This email address is being protected from spambots. You need JavaScript enabled to view it. and you're in the contest. Good luck!
Name:
Email address:
Mailing Address:
---
About Diamond Select Toys LLC
Diamond Select Toys was founded in 1999 by sister company Diamond Comic Distributors, as a manufacturer of toys and collectibles for kids and adults of all ages. Today, their broad range of products has earned them the motto "The Best of All Worlds," and made them one of the top suppliers to the specialty comic market.
Working with 2-D and 3-D artists from around the world, DST develops items in a diverse array of product categories, including Select action figures, Minimates mini-figures, electronic vehicles, vinyl banks, resin busts and statues, kitchenware and prop replicas. Their licenses are equally diverse, acquired through partnerships with Warner Bros., Disney, Universal, Sony, CBS, Fox, Electronic Arts, Marvel Comics and more.
DST merchandise is available at independently owned comic shops and specialty stores worldwide, through Diamond Comic Distributors.