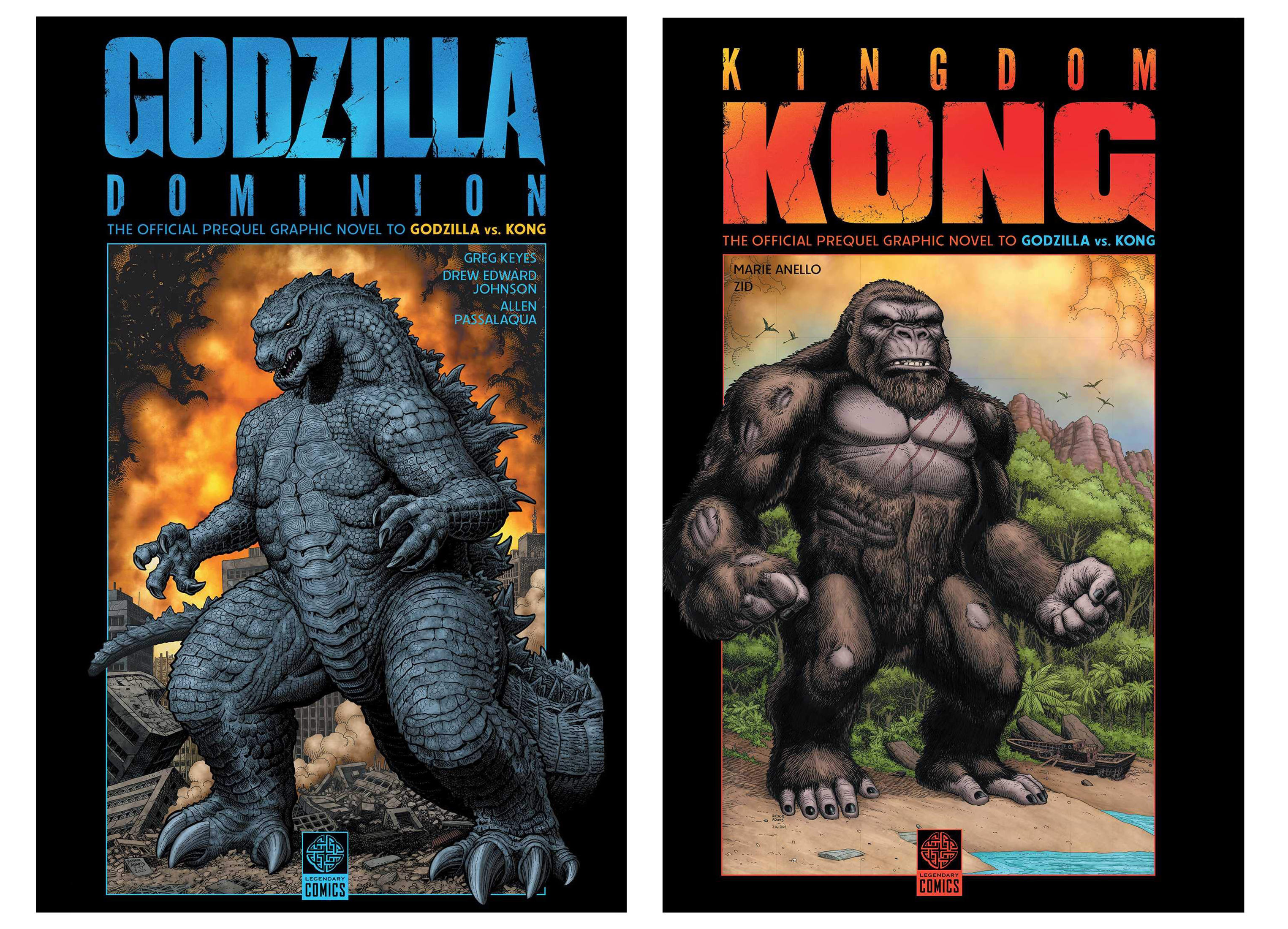 Photos courtesy of Legendary Comics. TM & © TOHO CO., LTD. © 2021 WARNER BROS. ENT. © LEGENDARY 2021
Source: Legendary Comics
Official Movie Site: GodzillavsKong.com
Official Facebook: @GodzillaVsKong
Official Instagram: @GodzillaVsKong
Official Twitter: @GodzillaVsKong
Special Thanks to Tracy Brown and Sarah Jarvis
Legendary Comics is offering SciFi Japan readers a chance to win their GODZILLA VS. KONG prequel graphic novels Godzilla Dominion and Kingdom Kong!
Godzilla Dominion is written by New York Times' bestselling author Greg Keyes (the New Jedi Order series, Godzilla vs. Kong: The Official Movie Novelization) with art by Drew Edward Johnson (DC's Wonder Woman, Supergirl; Legendary Comics' Godzilla Aftershock). It features a unique story that picks up after the events of the film GODZILLA: KING OF THE MONSTERS, where the Titans have risen and the reign of Godzilla has begun. As told entirely from Godzilla's point of view, the graphic novel brings new insights into the King of Monsters: his habitats, ancient rivalries, encounters with new Titans, and other challenges. As his new era of dominance is tested, a coming confrontation with another King looms.
Kingdom Kong is written by Marie Anello (Shout Out) with art by ZID (Legendary Comics' Skull Island: The Birth of Kong; Trick 'r Treat: Days of the Dead; Spectral: Ghosts of War). A sequel to the graphic novel Skull Island: The Birth of Kong and a prelude to the film GODZILLA VS. KONG, Kingdom Kong follows a group of highly skilled military pilots gathered together on Skull Island to see who has 'the right stuff' to take on a dangerous mission into the hollow earth. One of the pilots, Audrey, is haunted by the memories of a monstrous clash with one of Godzilla's titanic rivals that left deep scars. When Skull Island is attacked by Camazotz, a bat-like Titan, Audrey must to come to terms with her inner demons, and finding his home newly threatened, Kong must rise to face this usurper that would plunge the world into perpetual night.
The Godzilla Dominion and Kingdom Kong trade paperbacks retail for $16.99 each.
OFFICIAL CONTEST RULES and INFORMATION
Prize:
A. There are two (2) prizes, consisting of one (1) copy of Godzilla Dominion and one (1) copy of Kingdom Kong.
B. The prizes will be shipped to the contest winners so entrants must include a valid mailing address. This contest is only open to participants in the United States and Canada.
C. In the event that a winner chooses not to (or cannot) accept a prize, he or she forfeits all claim to that prize.
D. One entry per person. Prizes are non-transferable. No substitution of prizes allowed.
Duration of contest:
A. The "GODZILLA VS. KONG Prequel Graphic Novels" contest runs from June 9 until 11:59pm on June 25, 2021.
How to enter:
A. Submit your name, email address, and mailing address for the random drawing.
B. Be sure to write "GODZILLA VS. KONG Prequel Graphic Novels" in the subject header of your email entry. SciFi Japan often runs multiple contests at the same time, so any entries without "GODZILLA VS. KONG Prequel Graphic Novels" in the subject header will be discarded.
Determination of winners:
A. Only contestants who have submitted the requested information will be entered in the final drawing. The first two randomly drawn eligible entries will be judged the winners for this contest.
B. SciFi Japan is not responsible for typographical, electronic or other errors in Internet operation affecting the offering, outcome, administration of the contest or the announcement of prizes. Void where prohibited or restricted by law.
C. The decision of Legendary Comics and SciFi Japan is final. Entrants agree to be bound by these Official Rules and by the decisions of the SciFi Japan judges, which are final and binding in all respects.
D. Following the drawing, the winners will be notified via email.
THE "GODZILLA VS. KONG Prequel Graphic Novels" CONTEST
Just email the following info to "GODZILLA VS. KONG Prequel Graphic Novels" at This email address is being protected from spambots. You need JavaScript enabled to view it. and you're in the contest. Good luck!
Name:
Email address:
Mailing Address:
---
About Legendary Comics
Legendary Comics was born out of a passion for mythic entertainment, seeking out new talent and working with the best and the brightest in the industry to create transportive worlds, inspirational characters, and spectacular adventures that leap off the page. Founded in 2011, Legendary Comics has produced an exciting catalogue of original titles that continues to grow and evolve. From partnerships with industry legend Frank Miller to Grant Morrison's Eisner-nominated Annihilator, Legendary Comics has a passion for innovative new stories, including the fantasy graphic novel The Heart Hunter, the historical fiction story Championess (based on the true story of Elizabeth Wilkinson) and Jessica Chobot and Erika Lewis' hit webseries, Firebrand: The Initiation of Natali Presano. In addition to original titles, Legendary Comics also expands the scope of the cinematic universes of its parent company Legendary Entertainment, by bringing big-screen adventure exploding onto the comic book page. Working with the visionary filmmakers and the architects of Legendary's Monsterverse, they have delivered the level of quality and authenticity our fans demand with New York Times best-sellers such as Godzilla: Aftershock, Pacific Rim: Aftermath, and Skull Island: The Birth of Kong, to name a few. http://www.legendary.com/comics
About Legendary
Legendary Entertainment is a leading media company with film (Legendary Pictures), television and digital (Legendary Television and Digital Media) and comics (Legendary Comics) divisions dedicated to owning, producing and delivering content to worldwide audiences. Legendary has built a library of marquee media properties and has established itself as a trusted brand which consistently delivers high-quality, commercial entertainment including some of the world's most popular intellectual property. In aggregate, Legendary Pictures-associated productions have realized grosses of more than $17 billion worldwide at the box office. To learn more visit legendary.com.
About Toho
Toho Company, Limited, is a Japanese entertainment studio focused on the development, production, exhibition, and distribution of powerful content for motion pictures, television and theater. Founded in 1932, it remains a prominent force in bringing brands and original storytelling with versatile talents to audiences worldwide. Its subsidiaries include Toho Cinemas, the highest grossing exhibition company in Japan. To learn more, visit toho.co.jp/en.