Photo courtesy of Toho. © TOHO CO., LTD.
Become Godzilla and Crush Cities Around the World Underfoot in Toho Co., Ltd.'s Latest Thrilling Action Game
Source: Toho Co., Ltd. press release
Official Site: godzillagames.jp
Special Thanks to Jacara Jenkins
Today, April 27 (Tue.), TOHO Games, the game label of Toho Co., Ltd., announces the worldwide release of its mobile game "Godzilla Destruction". Accompanying the game's release is a new promo video introducing some of its key elements.

"Godzilla Destruction" is an exciting and easy to play mobile game where players become the King of the Monsters himself and embark on a global rampage. Players control Godzilla and a host of other monsters with the tap of a finger to crush historical buildings in cities across the globe. The destruction begins today with the game's worldwide release.
The latest promo video provides insight into how players can enjoy "Godzilla Destruction". Three main elements are featured: (1) Attack - Simply tap and drag; (2) Skills and Monster Upgrades - Make your monsters even more powerful with various upgrade items; (3) World Selection - Deploy Godzilla to cities all around the world, starting with Japan.
In 2021, TOHO Games will release three Godzilla Games for mobile worldwide: "Run Godzilla", "Godzilla Destruction", and "Godzilla Battle Line". Godzilla's path of destruction is set to expand even further alongside the release of the Hollywood movie GODZILLA VS. KONG (in US theaters and on HBO MAX on March 31) and the anime TV series GODZILLA SINGULAR POINT.
Receiving rave reviews on the App Store and Google Play!
Promo video on how to enjoy "Godzilla Destruction" can be viewed here.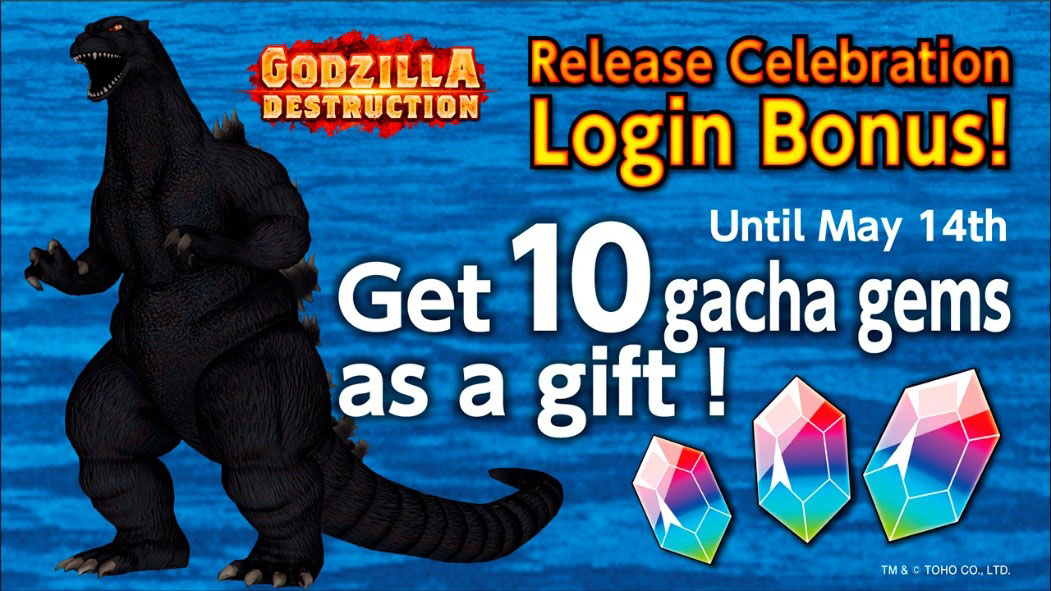 Photo courtesy of Toho. © TOHO CO., LTD.
■ Release Celebration Login Bonus!" campaign!
To celebrate the game's worldwide release, we're holding a "Release Celebration Login Bonus!" campaign!
The first time you log in, you'll receive 2,700 gems. That's enough for 10 spins of the gacha, where you can win monsters and upgrade items! Plus, if you log in during the event period, you will receive up to 8,100 gems (enough for 30 gacha spins), depending on how many days you log in!
Event Period (Japan Standard Time (JST))
4/27 12:00 - 5/14 11:59

Present Contents
First-Time Login: 2,700 gems
2nd, 3rd, 4th, 6th, 7th, 8th, 9th, 11th, 12th, 13th, 14th Logins: 300 gems
5th and 10th Logins: 600 gems
15th Login: 900 gems
*You do not need to log in every day during the campaign period in order to receive the campaign gifts corresponding to the dates of your logins.
* Details
1. "Release Celebration Login Bonus!" rewards can only be earned once per day.
After you earn a reward, you will be eligible to earn another reward starting from 12:00 the following day (JST).
2. You will not receive any rewards if you do not log in during the campaign period.
3. The period and contents of the campaign are subject to change without notice.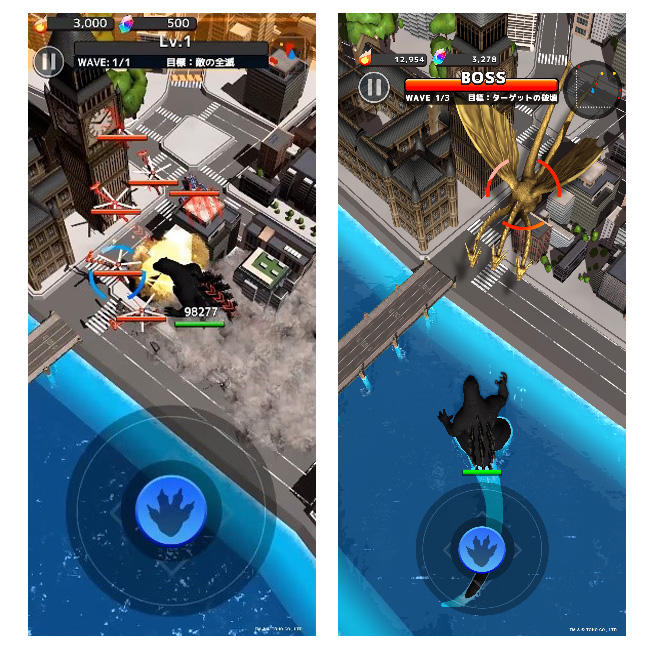 Photo courtesy of Toho. © TOHO CO., LTD.
■ Game Overview
Godzilla Destruction
Become Godzilla and crush cities underfoot! Step inside the monstrous body of the legendary Godzilla and terrorize all corners of the world!
Destroy cities across the globe in this exciting and easy to play game!
Game title: Godzilla Destruction
Genre: Action, Shooter
Price: Free to play (with optional in-game purchases)
Compatible devices: iOS, Android
Worldwide release (including Japan): April 27 (Tue.)
Official website: godzillagames.jp (*For info on all three games)
Official Twitter: @Gz_destruction
Official Facebook: @Gz.destruction
© TOHO CO., LTD.
---
About Toho
Toho Company, Limited, is a Japanese entertainment studio focused on the development, production, exhibition, and distribution of powerful live action and animated content including motion pictures, television and theater. Founded in 1932, Toho remains a prominent force in bringing brands and original storytelling with versatile talents to audiences worldwide. Its subsidiaries include Toho Cinemas, the highest grossing exhibition company in Japan, and Toho International, Inc., a U.S. established incorporated company that manages and commercializes Toho's intellectual property portfolio. To learn more, visit toho.co.jp/en.