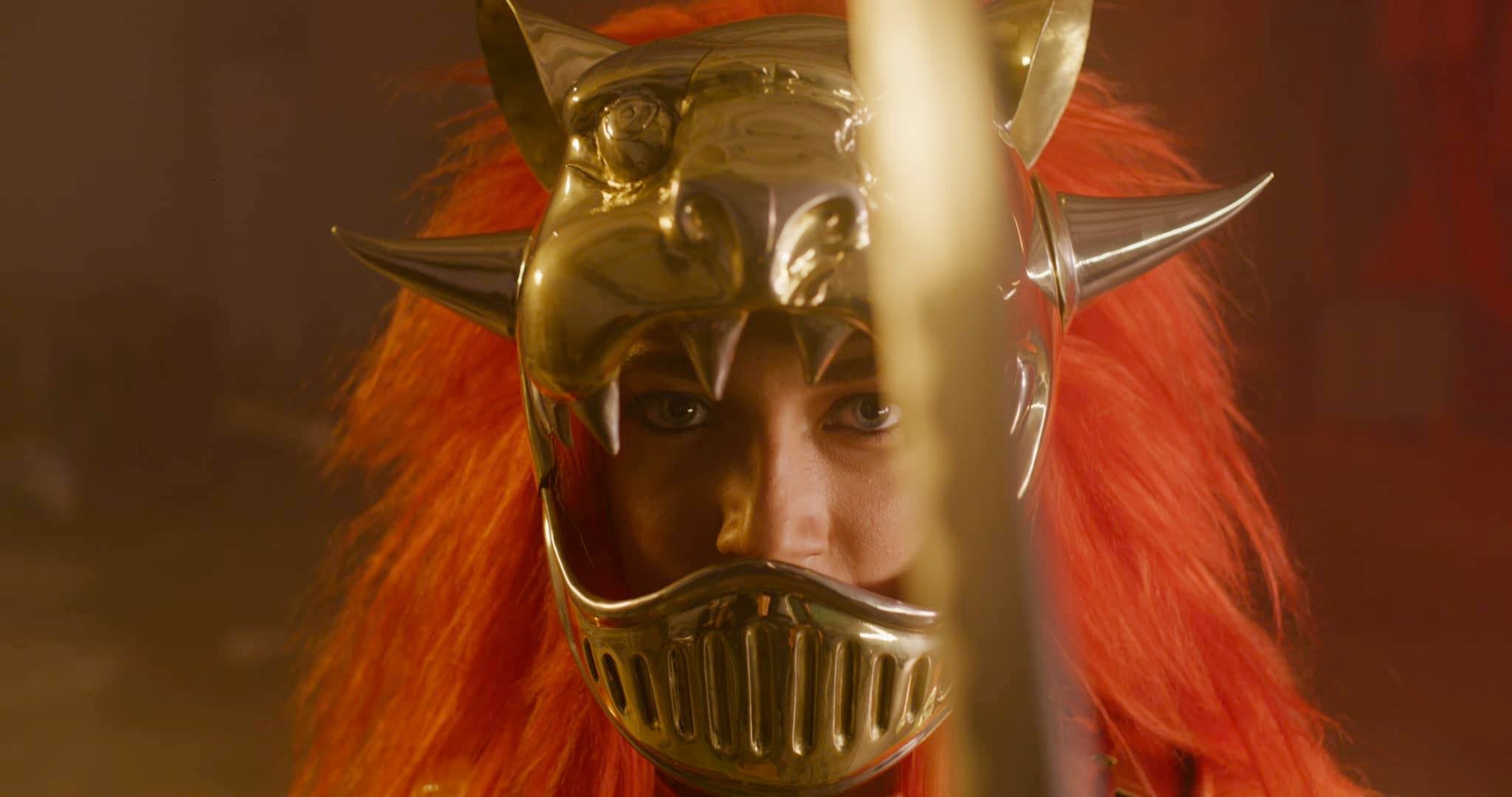 Cleopatra Entertainment is bringing Toei Video's LION-GIRL to Blu-ray and DVD. Photo courtesy of Cleopatra Entertainment. © 2022 Toei Video Company
Source: Cleopatra Entertainment, LLC press release
Special Thanks to Tim Yasui and Jeff Michael

Cleopatra Entertainment has set the North American and United Kingdom release date for LION-GIRL (唐獅子仮面, Karajishi Kamen, 2022), a new Japanese Superhero film written and directed by cult film master Kurando Mitsutake and based on characters created by Japanese manga legend Go Nagai. The film will be released on Digital Platforms and on special Home Entertainment Blu Ray and DVD formats on November 7th, 2023.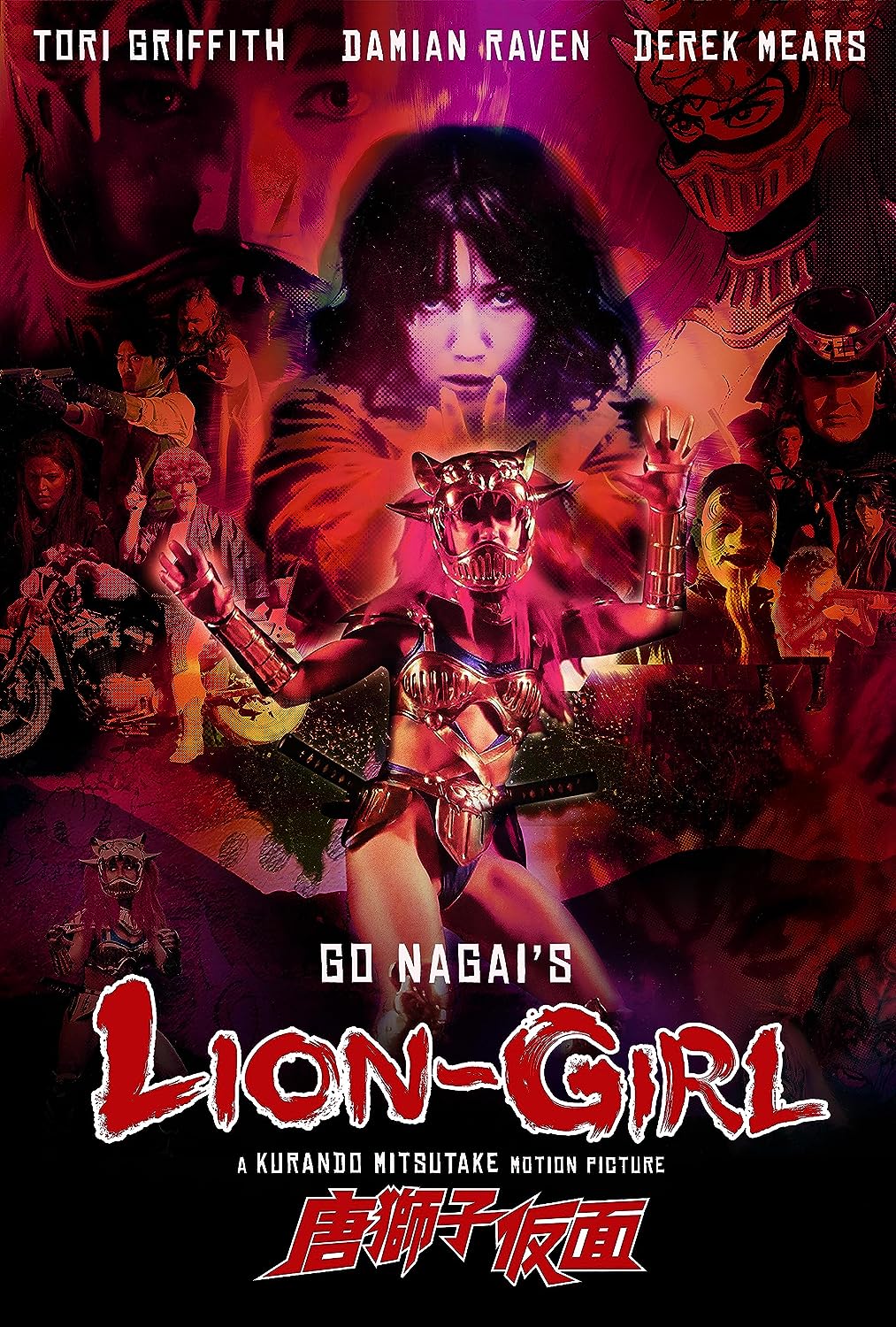 Photo courtesy of Cleopatra Entertainment. © 2022 Toei Video Company
To accommodate the official release date, Cleopatra has launched a brand-new Trailer and a new Poster that is unique for its English-speaking territories. The U.S. Theatrical premier at the Arena Cinelounge in Hollywood this past August quickly sold out and was a success, enjoyed by a robust audience that included key cast and crew members. The special edition Blu-Ray version is chock full of bonus items, such as an exclusive on camera interview with Go Nagai himself, a behind the scenes documentary film about the making of Lion-Girl and as an extra bonus, footage from the Hollywood Theatrical premier that includes a Q&A with Director Kurando Mitsutake and the stars of the film.
Shot entirely in Los Angeles during the height of the Covid lockdown, LION-GIRL was produced in association with Tokyo's TOEI VIDEO and tells the story of survivors of a meteor shower who are left to defend themselves against each other and monsters known as "Anoroc" who hunt and kill human beings for their lifeforce.
LION-GIRL has been making the rounds and gathering rave film critic reviews after its recent international film festival run as an official selection at The Fantastic Film Festival Australia and the Grossmann Fantastic Film Festival (Slovenia).
The film stars Derek Mears (FRIDAY THE 13th, PREDATORS), Tori Griffith (WAKE UP, PRINCESS OF THE ROW), Damian TooFeek Raven (THE CHADWICK JOURNALS), David Sakurai (FANTASTIC BEASTS, ALFA), Shelby Lee Parks (GOOD TROUBLE), Matt Standley (FAIRYLAND, DON'T TEAR YOURSELF APART) and Joey Iwanaga (ENTER THE FAT DRAGON, RUROUNI KENSHIN: Final Chapter).
The rights deal was brokered by Cleopatra Founder and CEO Brian Perera, Tim Yasui VP/GM of Cleopatra Entertainment, and by Shiori Takata, the head of international Film Licensing for the Toei Company, LTD of Japan.
LION-GIRL [Blu-ray]
SKU: CLO4694BR
Format: Blu-ray
UPC: 889466469480
Street Date: 11/07/23
Label: Cleopatra Entertainment
Genre: Sci Fi/Fantasy
Run Time: 81 mins
Number of Discs: 1
Audio: 5.1 SURROUND
Year of Production: 2022
Region Code: 1
Territory: US, CA
Language: English, Japanese
$19.95
Bonus Materials
Directors Commentary (audio option), Interviews with Cast
A conversation with Japanese Manga Legend Go Nagai
Q&A with Key Cast Members at the Hollywood Theatrical Premier of LION-GIRL
The Making of LION-GIRL Documentary Feature Film
---
About Cleopatra Entertainment
Cleopatra Entertainment is a Los Angeles based multimedia company founded by Cleopatra Records head Brian Perera. Recent films in release include SHIN ULTRAMAN, TUBULAR BELLS: 50th ANNIVERSARY TOUR, Glenn Danzig's long-awaited horror film DEATH RIDER IN THE HOUSE OF VAMPIRES, the critically acclaimed biopic STREET SURVIVORS: THE TRUE STORY OF THE LYNYRD SKYNYRD PLANE CRASH and the UK drama MRS LOWRY & SON starring Academy Award winner Vanessa Redgrave.