Source: Arrow Films, MVD Entertainment
Special Thanks to Clint Weiler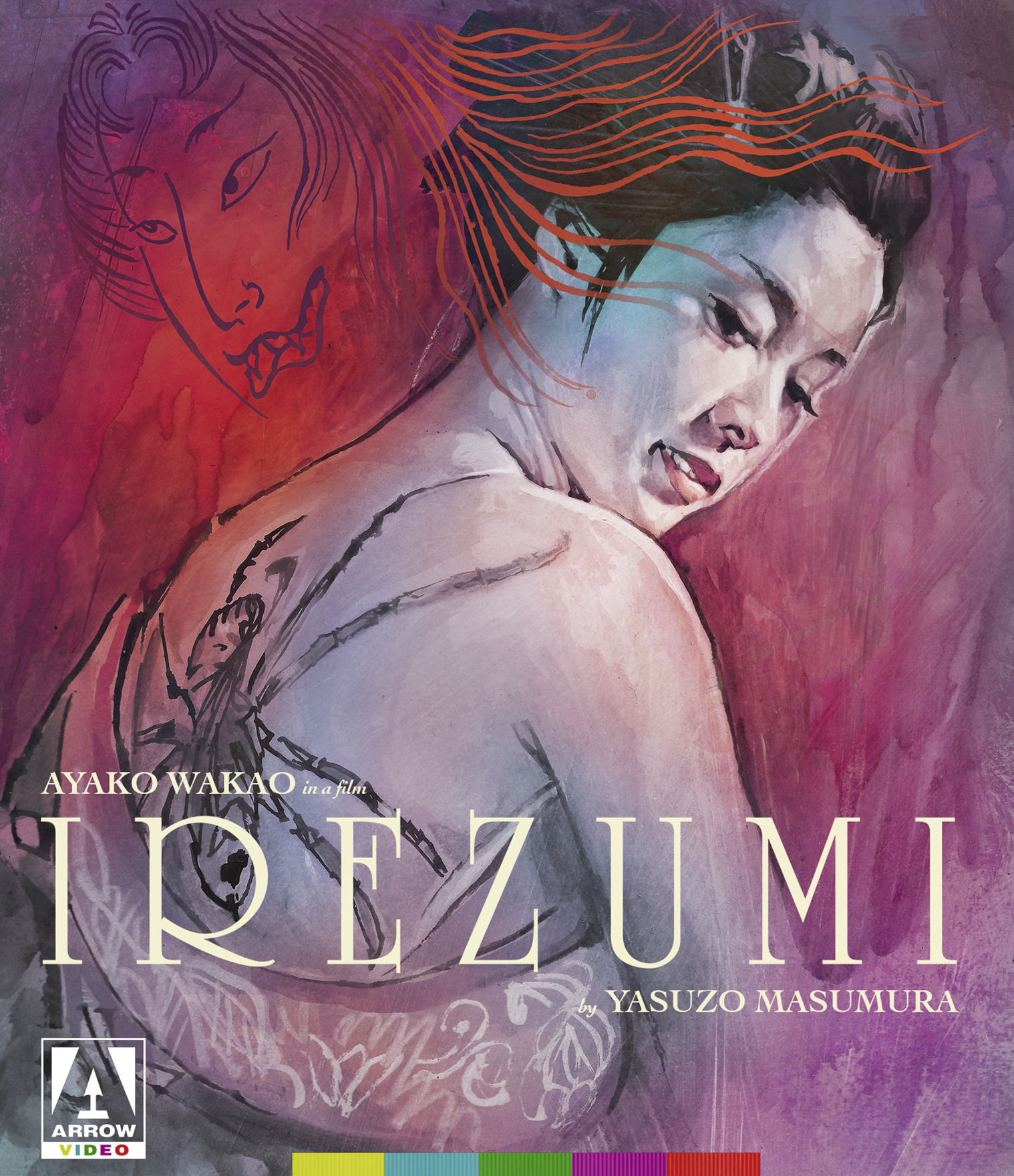 Photo courtesy of Arrow Films. © KADOKAWA
WHEN A SEDUCTIVE WOMAN GETS A SPIDER TATTOO... SHE WANTS VENGEANCE ON THOSE WHO MISTREAT HER!
Drawn from the pen of one of Japan's foremost writers of the 20th century, Junichiro Tanizaki (A Fool's Love, The Makioka Sisters), IREZUMI (刺青, 1966) is a stylish tale of lust, betrayal and revenge directed by Yasuzo Masumura (GIANTS AND TOYS, BLIND BEAST).
Masumura's muse Ayako Wakao (THE BLUE SKY MAIDEN, RED ANGEL) stars as Otsuya, the daughter of a rich merchant, who is tempted by her lover, Shinsuke, a lowly employee of her father's, to elope. During their flight, Otsuya's beauty attracts the gaze of Seikichi, a mysterious master tattooist who sees her pristine white skin as the perfect canvas for his art. The image of the large demonic spider that he emblazons across Otsuya's back marks her as the property of another man, radically altering her relationships with all around her as her personality transforms under its influence.
Available for the first time outside of Japan in a new 4K restoration, Irezumi sports some of Japanese cinema's most respected talent of its day both in front of and behind the camera. The bewitching cinematography by Kazuo Miyagawa (RASHOMON, UGETSU) captures the sensual atmosphere of the period setting, while the script by Kaneto Shindo (ONIBABA, KURONEKO) lends a modern twist to this feverish meditation on obsession and the act of creation.
Running Time: 86 Minutes
Number of Discs: 1
Language: Japanese
Subtitles: English
Audio: Mono 1.0
Aspect Ratio: 2.35:1
US
Region Code: 0
SKU: AV359
UPC: 760137600886
Sreet Date: 6/22/21
List Price: $39.95
UK
Region Code: B
UK Rating: TBC
Street Date: 6/21/21
RRP: £24.99
BONUS MATERIALS
High Definition Blu-ray (1080p) presentation from a new 4K scan
Original uncompressed Japanese mono audio
Optional English subtitles
Brand new audio commentary by Japanese cinema scholar David Desser
Newly filmed introduction by Japanese cinema expert Tony Rayns
Out of the Darkness, a brand new visual essay by Asian cinema scholar Daisuke Miyao
Original Trailer
Image Gallery
Reversible sleeve featuring original and newly commissioned artwork by Tony Stella
FIRST PRESSING ONLY: Illustrated collectors' booklet featuring new writing by Thomas Lamarre and Daisuke Miyao
---
About Arrow Films
Arrow Films is a leading independent entertainment distribution company, established in 1991. Operating in the UK, the Republic of Ireland, United States of America and Canada, Arrow Films is dedicated to supporting upcoming and established filmmakers of dynamic new cinema and developing an enviable slate of quality films that enjoy a lasting legacy across its award-winning branded labels, channels, and platforms.
About MVD Entertainment Group
MVD Entertainment Group is a full service music and movie distribution firm, exclusively representing thousands of audio and visual products for DVD, Bluray, CD, vinyl, and digital rights, worldwide. MVD also exclusively distributes a growing line of merchandise including limited edition collectibles, tee shirts, and more. "Serving Artists and Audiences" is MVD's purpose statement; it represents a commitment to the interests of the musicians, filmmakers, record labels, producers, managers, and every link in the supply chain. The customers are the Audience, from wholesalers, sub-distributors, major retail chains, online retailers, specialists, and independent mom and pop stores, all the way to the consumer. MVD Entertainment Group was founded in 1986 by Tom Seaman, an industry veteran with prior experience with The Record Hunter, Sam Goody, CBS Retail, and JEM Distribution. Tom, along with his family Elinor, Eve and Ed, initially focused on music videotapes. At the turn of the century, with the advent of DVD, MVD built a large catalog of exclusively distributed audiovisual content on DVDs, with special strength in music concert films, horror movies, documentaries, comedy, cult classics, and much more.