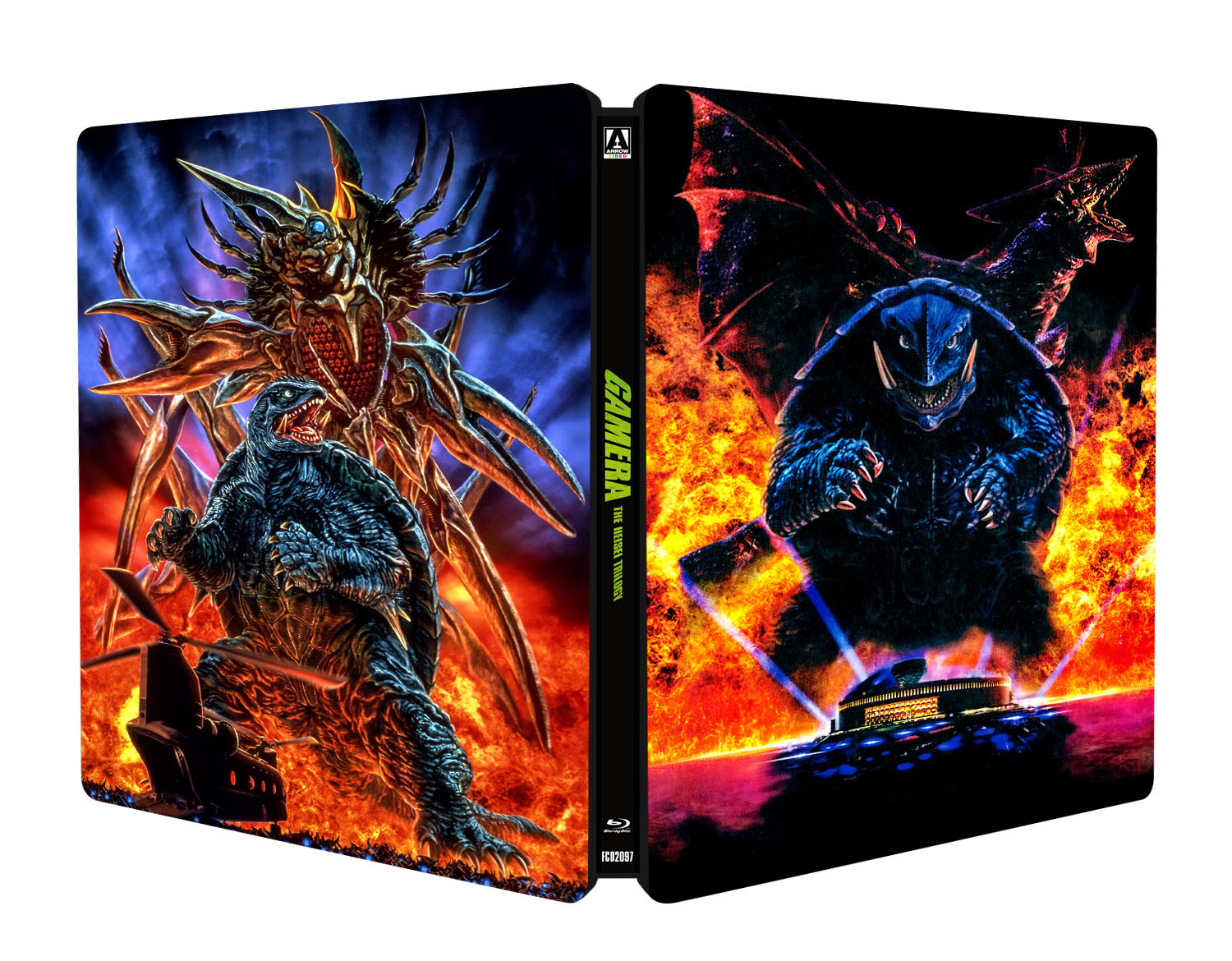 Photo courtesy of Arrow Films. © KADOKAWA
Source: Arrow Video US, MVD Entertainment Group
Special Thanks to Clint Weiler
Arrow Video US and MVD Entertainment are offering SciFi Japan readers a chance to win their GAMERA: THE HEISEI TRILOGY Limited Edition Steelbook. The three disc Blu-ray collection includes the acclaimed 1990s trilogy of GAMERA THE GUARDIAN OF THE UNIVERSE (ガメラ 大怪獣空中決戦, Gamera: Daikaijū Kūchū Kessen, 1995), GAMERA 2: ATTACK OF LEGION (ガメラ2 レギオン襲来, Gamera Tsū: Region Shūrai, 1996) and GAMERA 3: REVENGE OF IRIS (ガメラ3 邪神〈イリス〉覚醒, Gamera Surī: Irisu Kakusei, Gamera 3: Jyashin Irisu Kakusei, 1999).
The GAMERA: THE HEISEI TRILOGY SteelBook includes High Definition (1080p) transfers of all three movies, Japanese and English audio tracks, newly recorded audio commentaries, Japanese and American trailers, image galleries, featurettes and much more.
The GAMERA: THE HEISEI TRILOGY SteelBook is now available from Arrow Video US. The suggested retail price is $69.95.
OFFICIAL CONTEST RULES and INFORMATION
Prize:
A. There are two (2) prizes, each consisting of one (1) GAMERA: THE HEISEI TRILOGY SteelBook.
B. The prizes will be shipped to the contest winners so entrants must include a valid mailing address. This contest is only open to participants in the United States and Canada.
C. In the event that a winner chooses not to (or cannot) accept a prize, he or she forfeits all claim to that prize. D. One entry per person. Prizes are non-transferable. No substitution of prizes allowed.
Duration of contests:
A. The "GAMERA: THE HEISEI TRILOGY SteelBook" contest runs from April 30 until 11:59pm on May 14, 2021.
How to enter:
A. Submit your name, email address, and mailing address for the random drawing.
B. Be sure to write "GAMERA: THE HEISEI TRILOGY SteelBook" in the subject header of your email entry. SciFi Japan often runs multiple contests at the same time, so any entries without "GAMERA: THE HEISEI TRILOGY SteelBook" in the subject header will be discarded.
Determination of winners:
A. Only contestants who have submitted the requested information will be entered in the final drawing. The first two randomly drawn eligible entries will be judged the winners for this contest.
B. SciFi Japan is not responsible for typographical, electronic or other errors in Internet operation affecting the offering, outcome, administration of the contest or the announcement of prizes. Void where prohibited or restricted by law.
C. The decision of Arrow Video US and SciFi Japan is final. Entrants agree to be bound by these Official Rules and by the decisions of the SciFi Japan judges, which are final and binding in all respects. D. Following the drawing, winners will be notified via email.
"GAMERA: THE HEISEI TRILOGY SteelBook" CONTEST
Email the following info to "GAMERA: THE HEISEI TRILOGY SteelBook" at This email address is being protected from spambots. You need JavaScript enabled to view it. and you`re in the contest. Good luck!
Name:
Email Address:
Mailing Address:
---
About Arrow Films
Arrow Films is a leading independent entertainment distribution company, established in 1991. Operating in the UK, the Republic of Ireland, United States of America and Canada, Arrow Films is dedicated to supporting upcoming and established filmmakers of dynamic new cinema and developing an enviable slate of quality films that enjoy a lasting legacy across its award-winning branded labels, channels, and platforms.
About MVD Entertainment Group
MVD Entertainment Group is a full service music and movie distribution firm, exclusively representing thousands of audio and visual products for DVD, Bluray, CD, vinyl, and digital rights, worldwide. MVD also exclusively distributes a growing line of merchandise including limited edition collectibles, tee shirts, and more. "Serving Artists and Audiences" is MVD's purpose statement; it represents a commitment to the interests of the musicians, filmmakers, record labels, producers, managers, and every link in the supply chain. The customers are the Audience, from wholesalers, sub-distributors, major retail chains, online retailers, specialists, and independent mom and pop stores, all the way to the consumer. MVD Entertainment Group was founded in 1986 by Tom Seaman, an industry veteran with prior experience with The Record Hunter, Sam Goody, CBS Retail, and JEM Distribution. Tom, along with his family Elinor, Eve and Ed, initially focused on music videotapes. At the turn of the century, with the advent of DVD, MVD built a large catalog of exclusively distributed audiovisual content on DVDs, with special strength in music concert films, horror movies, documentaries, comedy, cult classics, and much more.