Looks like there is a new "Mook" (What the Japanese call a cross between a "Book" and a "Magazine") by Yosensha, who has been churning out some outstanding Godzilla-related books. They have a new one coming out tomorrow:
http://www.amazon.co.jp/gp/aw/d/4800306 ... NDRE4E1KD#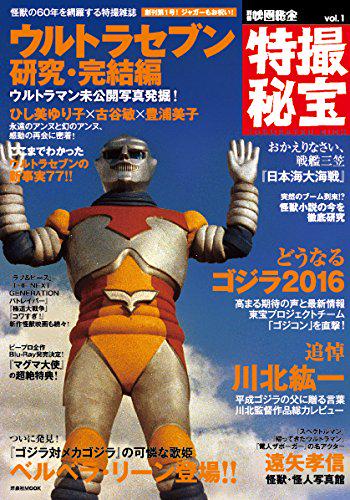 Just by skimming the cover using my rather crappy kana/kanji reading skills, it shows that the contents will contain info on
G2016
, Ultra Seven, KitaKawa Retrospective,
Battle of the Sea of Japan
(One of Ifukube's last films, about the Russo-Japanese War and the Battle of Tsushima) Beverly Lin from
GvsMG74
. I honestly have no idea if this "Mook" will become a regular series, but the fact that it says "Vol. 1" might be indicative that this could turn into a running series (It's amazing that Japan has no real equivalent of
G-Fan
Magazine that's widely available). The release date is 5/18 in Japan (tomorrow my time), so I'll try to pick it up and post some info and review of it.